The Gathering Collaborative
$25 Million Total in Grants to Address Racism Is A Public Health Crisis
Racism Is A Public Health Crisis - The Gathering Collaborative
The focus of this effort and the related investments is to start to undo the harms on the following populations who, based on extensive research and data nationally and in King County, most negatively experience the generational, current, and longstanding impacts of racism, making it a public health crisis:
Black Americans who are the descendants of enslaved Africans and continue to experience the ongoing and deep impacts of systemic racism in all of its facets.

Indigenous Peoples directly impacted by settler colonialism within the US borders which have created the systems of institutional and structural racism perpetuated by the United States government and ongoing settler colonialism of the United States. It includes American Indians/Alaska Natives/Native Americans, Native Hawaiians, American Samoa, and Pacific Islander communities.
Review this document for a Glossary of Key Terms and Definitions.
Community members who have participated in the co-creation process to imagine, form, and engage as a part of The Gathering Collaborative, alongside King County staff, have committed to using and upholding the following guiding values as designed by The Gathering Collaborative:

Exercise Black and Indigenous Power
We exercise interconnected Black, Indigenous and Brown power and hold King County accountable, with an understanding of processes, barriers and historic practices in order to change them.

The LONG-TERM goal of The Gathering Collaborative must be to dismantle racism and other related abuses and replace with equitable systems that protect and promote the health and well-being of Black and Indigenous People, so that all King County communities thrive.
Center those most harmed by racism
We center those most harmed by racism, to lift all communities. This includes a deep understanding, acknowledgement and commitment to end anti-Blackness and the intentional erasure of Indigenous communities.
We uphold a Gathering Collaborative without guarding information and believe those directly harmed by racism and furthest from opportunity in community, know best.
Immediate money allocation with long term goals
$25 million is both 'budget dust' and seed money. It must be shared immediately to provide short term help for those most harmed by racism and worsened by COVID.
The seed money needs to shape long term, antiracist work that impacts and overhauls how the County prioritizes its budget.
King County needs to face the truth
We and our communities are the truthtellers and owners of the legacy, not the County or any other institution.

We face the truth that Black and Indigenous communities are most harmed by systemic racism.
King County commits to changing dynamics
King County and other local governments have done harm. Community leaders and partners know that there are risks to partnering with King County government. The County understands and commits to change this dynamic.

We (the community members of The Gathering Collaborative) will hold King County accountable to act on the recommendations from The Gathering Collaborative by disrupting business as usual and making pathways to racial equity.

We must have commitment to systemwide change, transparency, honesty, and accountability between this Gathering Collaborative and King County government.

The Gathering Collaborative is a space where members experience the power of older and younger generations serving together, grounded in the wisdom of the generations that have come before us and ensuring that the impacts on generations in the future are considered in the ways we think, move, and act. It is averyfluid space, where people contribute where they can and with what capacity they have. Below is a list of members that have contributed to the Gathering Collaborative in various ways:
Alina Santillán
Amelia Bai
Amy Cummings-Garcia
Arleen Marston
Arthi Bhaskaran
Ashleigh Shoecraft
Atelete Makasini
AyeNay Abye
Aziz Chyad
Bereket Kiros
Rev. Bianca Davis-Lovelace
Bronwyn Talaga
Camie Jae Goldhammer
Christina Diego
Clorine Joujen
Danielle Lowe
David Bulindah
David Humphrey
Debbie Lacy
Dr. Julie Vaughn
Edna M. Daigre
Ella M. McRae
Emijah Smith
Emma Medicine White Crow
Erin Lee
Faana Martin
Fathiya Abdi
Florence Adeyemi
Gina Hall
Ginger Kwan
Hattie Steward
Hussein Hadi
Katrina Sanford
James Lovell
Jamila Garrett Bell
Jayden Aubryn
Jayleen Salas
Jean Iannelli Craciun
Jennell Hicks
Jiji Jally
Joseph Seia
Julius Kimani
K. Marie
Karen Wong
Kathleen Chambers
Kelcy Maun
Keleni Tavaiqia
Keri Bartlett Bullocks
Koa Derouin
Kristina Katayama
K. Patricia
Lalita Uppala
Leah Ford
Linda Smith
Lorena Ortigoza
Malie Chanel
Mario Banuelos
Mary Rabourn
Martina Naich
Maya Manus
Meko Lawson
Mirius Wenda
Mohamed Bakr
Mothana Alzubaidi
Patrick Carr
Rebecca Chan
Rosie Tavaiqia
Roxana Pardo Garcia
Savelio Makasini
Shelley Means
Sherronda Jamerson
Starleen Lewis
Steven Lewis
Storme Webber
Trenise Rogers
Whitney Nakamura
Yordanos Teferi
Zahraa Akmoosh

Racism is A Public Health Crisis Co-Chairs
Executive Dow Constantine
Abigail Echo-Hawk
Dr. Ben Danielson

King County Staff Team
Anita Whitfield
April Putney
Arun Sambataro
Devante' Daniels
Eci Ameh
Kwame Simmons
Michael Padilla Ocampo
Reeni Nair
Sheila Ater Capestany
Stephanie Guzman-Barrera
Will Suarez Gomez
Vazaskia Crockrell
Zac Davis
King County makes historic investment to tackle Racism as a Public Health Crisis with $25 million in grants to more than 120 small businesses, nonprofits, and community organizations
King County Executive Dow Constantine and fellow co-chairs of the Gathering Collaborative, Dr. Ben Danielson and Abigail Echo-Hawk, announced $25 million in grants awarded to 123 nonprofits, community organizations, and small businesses to advance the work of addressing racism as a public health crisis in the region.
Since March 2022, King County and the co-chairs have met weekly with the Gathering Collaborative, a group of diverse and trusted community members, to co-create the grant program. The Collaborative is the result of reimagining a different grants process in partnership with Black and Indigenous communities, and to equitably distribute grant funding to advance economic and racial justice in communities.
The Gathering Collaborative and King County received overwhelming interest in the grant opportunity, with nearly 800 applications requesting over $230 million – more than nine times the total funding available. Community reviewers dedicated their time over the past several months to thoroughly evaluate, discuss, and score each applicant. After an extensive review process, the Gathering Collaborative recommended funding a total of 123 organizations.
"King County is honored to partner with organizations and businesses that are and have been developing solutions to repair the harms of racism, bringing healing and well-being to Black and Indigenous communities," said Executive Constantine, co-chair of the Racism is a Public Health Crisis effort. "King County is actively confronting the reality of racism and acknowledging its historic and present-day impacts on marginalized communities. This $25 million investment will help to combat the public health crisis that racism truly presents in our communities while forging a path toward a more equitable and just future for all people."
Read the full news release here.
These frequently asked questions (FAQs) come from questions received via email and during our informational sessions hosted in February 2023. It will be updated regularly as we receive more questions and is subject to change.
Review the Frequently Asked Questions.
It is important to us to make this grant process as welcoming and easy as possible for all applicants, with a goal to support those organizations and businesses with the greatest needs for technical assistance and capacity building, who focus on serving local Black and/or Indigenous communities.

Our Technical Assistance and Capacity Building partners are available to help with the following activities from January 31 to April 11, 2023:
Grant writing and grant budget development
Accounting
Grant management
Designing data collection methods
Strategic planning
Want to request Technical Assistance and Capacity Building services? Click below to email:
In your email, please include your name, your business' or organization's name, the best contact information to reach you, and the type of help you need from the technical assistance provider. We will strive to connect you to a provider in 1-2 business days.
Request small business technical assistance
Request non-profit and grassroots organization technical assistance
Who are our Technical Assistance and Capacity Building partners?
Latitude Grant Writing LLC
Scandiuzzi Krebs
StrataG.Works
Kent Chamber of Commerce
Indian American Community Services
Growing Contigo
Organizations and businesses of the following type and size are highly encouraged to use technical assistance resources:
ORGANIZATION TYPE:
ORGANIZATION SIZE:
Community-rooted, grassroots groups and organizations, with a fiscal sponsor currently registered as a business or non-profit with Washington State. OR

Non-profits currently registered with Washington State

Equal to or less than $100,000 in annual total revenue OR

3 or fewer full-time equivalent (FTE) employees

Businesses currently registered with Washington State, including all proper, applicable licenses and permits. This includes corporations, LLCs, general and limited partnerships, and sole proprietorships.

In business since at or before January 1, 2022

Equal to or less than $1,000,000 in gross annual total revenue OR

5 or fewer full-time equivalent (FTE) employees

Grant Priorities
Together, The Gathering Collaborative and King County aim to invest in a wide range of services, programs, operations, community advocacy efforts, and physical infrastructure designed and delivered through community-based service providers and businesses that move the needle on the established grantmaking priorities.
Learn more about each funding priority by using the accordions below.
Grant Categories and Criteria
Four grant categories will be available to applicants based on the organization type and size, and each category has both general and specific eligibility criteria. Use the accordion function below to view specific criteria for each grant category and application.
Grant Application Review Purpose and Process
To tackle the public health crisis of racism, the Gathering Collaborative and King County strived to invest in a wide range of services, programs, operations, community advocacy efforts, and physical infrastructure projects. The grant award process focused on these established priority areas:

Health & Wellness – Increasing investments in mental and physical health, culturally rooted and community-rooted care, healthy aging, family caregivers and networks of care, youth safety, environmental justice, and resources that improve the health of Black and Indigenous birthing people and their babies who reside in King County.
Economic Stability and Strengthening – Supporting small businesses to provide public benefits including entrepreneurship opportunities, leadership skills development, increase in staff hiring or providing staff benefits, and provide social safety net services and community building for Black and Indigenous communities, improving the overall health and wellness of these communities and beyond. Investing in economic empowerment and wealth generation in historically underinvested and underserved communities to advance economic justice, is critical to addressing racism as a public health crisis.
Housing – Ensuring equitable distribution of housing resources and improving housing stability for Black and Indigenous community members and elders residing in King County, especially those experiencing gentrification pressures, and preventing homelessness.
Education – Investing in workforce development, entrepreneurship, arts and culture, youth programming, and addressing impacts of racism in schools on Black and Indigenous young people of King County.
Power & Capacity Building – Focusing on smaller organizations to grow regional advocacy, leadership, and power to serve Black and Indigenous communities within King County while investing community defined data, research, transparency and tracking of investments.
These priorities contribute to the health and well-being of Black and Indigenous communities – those who are most directly and disproportionately harmed by racism. The purpose of these priorities is to dismantle racism, tackle the root causes of harm that make it a public health crisis, and repair those harms and improve the health and well-being of all communities across King County.
These investments aim to bring social, economic, and emotional stability as well as healing, well-being, and restoration for Black and Indigenous people and their communities so that all People of Color and all communities across King County can thrive.
After engaging in a lengthy and deliberate design and community review process, The Gathering Collaborative's recommendations reflect a more equitable distribution of King County's $25 million of investments in community service providers, non-profit organizations, grassroots organizations, and small businesses to support their growth and entrepreneurship in repairing the deep harms of racism worsened by the COVID-19 pandemic.
Organizations are listed as "recommended" until they complete the contracting process.
Application review process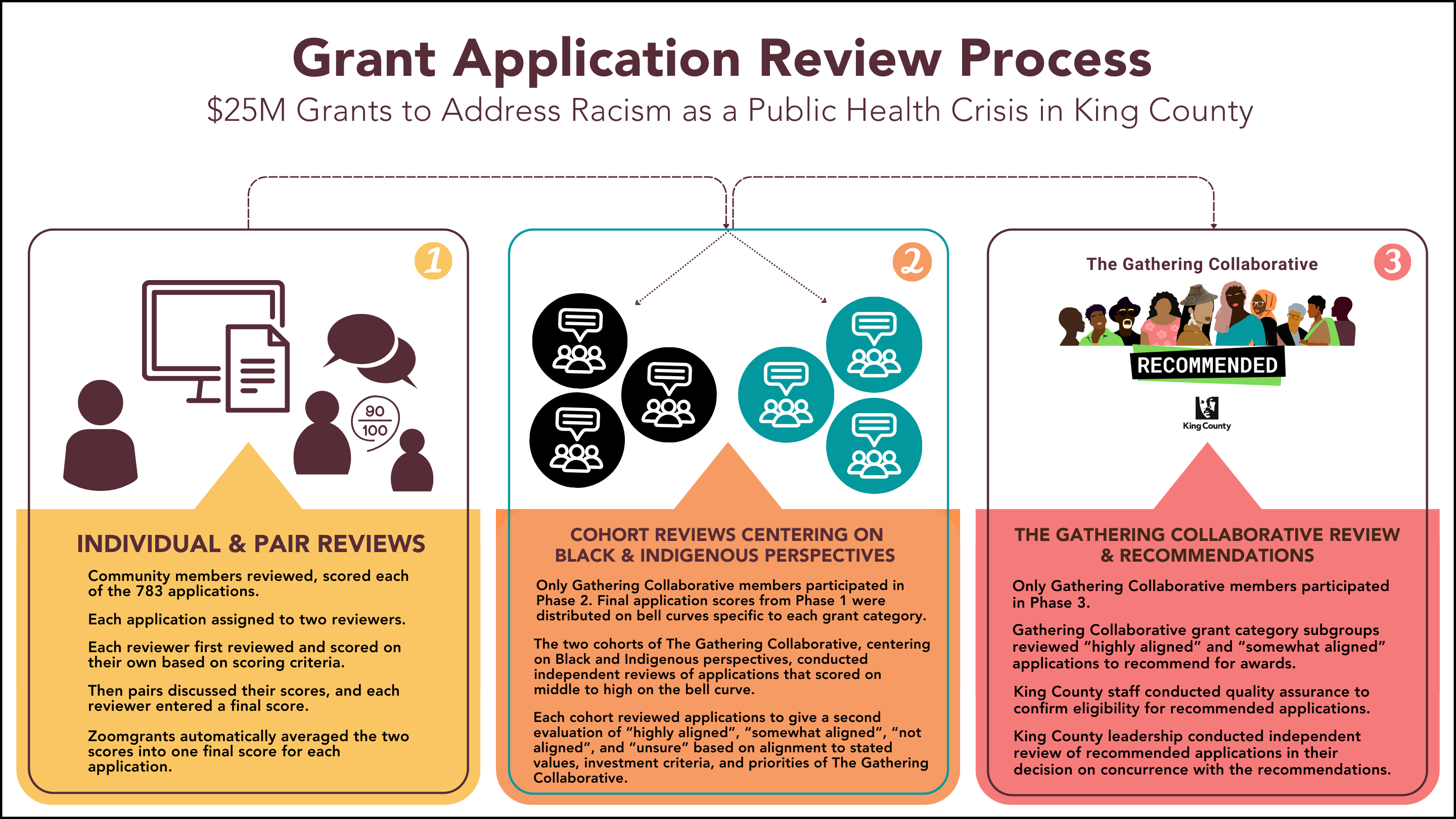 The purpose and intent of the review phases were designed and decided on by the Gathering Collaborative, with King County staff serving as facilitators and providing technical assistance. Gathering Collaborative members and vetted community members participated in the Phase 1 review, and only Gathering Collaborative members participated in Phases 2 and 3. Each reviewer completed onboarding and anti-bias training. After clearing conflict of interest screening, members were placed in application review categories.
Phase 1: Community members reviewed and scored each of the 783 applications in Phase 1. Each application was assigned two community reviewers. Total scores varied by grant application category. For every application in Phase 1, assigned community reviewers ranked the strength of responses to each question on Zoomgrants based on established scoring criteria, on a scale of 1 to 5 with 5 being "a strong response when it meets most and/or all of the scoring criteria". The rankings were then automatically converted to the share of the total points available for each question, based on multipliers. The pair of reviewers then discussed their initial scores, confirmed their individual final scores in Zoomgrants, and indicated their understanding of which of the focus populations are being served by the applicant as described in the application. Zoomgrants generated an average score per application as the final numeric score.
Phase 2: Only Gathering Collaborative members participated in Phase 2. Application scores were distributed on bell curves specific to each grant category. Two cohort-specific reviews were conducted – one cohort centering on Black perspectives and the other centering on Indigenous perspectives. Each cohort relied on the bell curves to decide on a manageable review load due to the high volume of applications; generally, The Gathering Collaborative cohorts reviewed applications that scored in the upper middle and higher end of scores from Phase 1 for each of the four grant categories.
Each cohort gave each of those applications a second assessment of "highly aligned," "somewhat aligned," "not aligned," or "unsure" based on how closely the applicant's work and ideas as described in their application aligned to advancing the Gathering Collaborative's stated values, commitment and accountability to investment criteria, and priorities to tackle the negative impacts and root causes of racism. In cases where an application was reviewed by both cohorts and received different assessments, then the higher value was given to the application. A high score in Phase 1 did not necessarily receive a "high alignment" in Phase based on this additional review.
Phase 3: Gathering Collaborative grant category subgroups reviewed applications assessed as "highly aligned" and "somewhat aligned" to recommend awards while prioritizing organizations and businesses with the greatest need for investment. The demand for funding far outpaced the available funding; not all applications that were high scoring in Phase 1 and/or "highly aligned" in Phase 2, were ultimately recommended for funding. King County staff oversaw additional quality assurance (QA) measures in this pre-award phase, including confirming applicants met the eligibility requirements based on the information provided, and raised potential issues with the Gathering Collaborative. After this layer of QA from staff, The Gathering Collaborative's final recommendations were moved to King County leadership for independent review and decision on final concurrence with those recommendations.
Grant Documents
General Grant Application - $25M Grants to Start to Address Racism as a Public Health Crisis (View application in PDF form). Application closed.
Capacity-Building Grants for Community Service Providers Application - $25M Grants to Start to Address Racism as a Public Health Crisis (View application in PDF form). Application closed.
Small Business Grant Application - $25M Grants to Start to Address Racism as a Public Health Crisis (View application in PDF form). Application closed.
Physical Infrastructure Grant Application - $25M Grants to Start to Address Racism as a Public Health Crisis (View application in PDF form). Application closed.