Winter weather information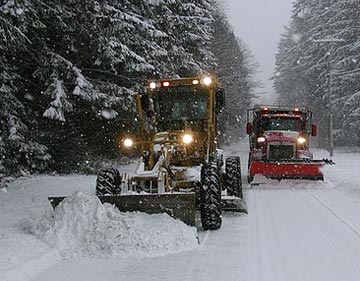 Winterize your home
Protect indoor sink pipes that are against exterior walls by opening under-sink cabinet doors to allow indoor heat to circulate.
During severe cold temperatures allow one indoor faucet to slowly drip cold water. Select the faucet that is the farthest from your front door.
Set your thermostat no lower than 55 degrees day or night (even if you are away).
Protect water pipes from freezing in exposed or unheated areas (attics, basements and garages) by wrapping them with tape and insulating materials from hardware stores (follow manufacturers' installation instructions).
Drain and remove all outdoor hoses.
Wrap outside faucets or hose bibs (i.e. foam insulated covers are available for about $3 at hardware stores).
Pet safety
During cold, wet weather, keep pets inside or limit the time that pets stay outside.
Provide outdoor pets with a dry, warm, secure shelter out of the wind such as a garage or insulated pet house. Even dogs that normally spend most of their time outside need good shelter in cold weather, even if it is only a garage.
Cats and kittens often nap on warm car engines and hoods. Knock on the hood or honk the car horn before starting the engine.
Always have fresh, clean, unfrozen water available for pets.
Do not leave your pet alone in a car. It gets too cold and carbon monoxide from a running engine is dangerous.
Driving tips
When traveling, be aware of ice hazards, especially on shaded roadways, bridges or in high elevation areas prone to freezing. So be on the lookout for black ice as well as snow.
If you must abandon your car during a snowstorm, pull as far off the road as safely possible to avoid blocking other vehicles and snow removal equipment. Cars left in travel lanes may be towed and impounded.
Equip your vehicle with all-season tires and carry tire chains.
Know how to use your chains and dry fit them before storm season.
Dress for the weather in case you become stranded and have to walk.