Status of Biodiversity in King County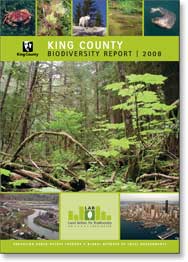 This document forms part of a set of biodiversity reports produced by participant cities of the
Local Action for Biodiversity (LAB) Project
(external link). It represents a critical starting point: a status quo assessment of biodiversity and its management in King County. This report is the foundation not only of the long-term plans that King County will develop to enhance, protect, and develop its biodiversity, but it also helps to collectively form the basis for the development of a highly effective global urban biodiversity initiative.
The King County Biodiversity Report 2008 is available in Adobe® Acrobat® format. For help using Acrobat files, please visit our Acrobat help page. The document is available in parts to reduce download time and minimize computer problems during and after download. Please note that most files unless otherwise indicated are A4 (8.29 x 11.72"), but can be printed on letter size paper by choosing to "fit to printer margins" in Acrobat Reader.
Front cover
Foreword
Table of Contents
Preface
Chapter 2 - Governance

2.1 Biodiversity in County Management
2.2 Biodiversity Projects

Chapter 3 - Integration

3.1 Mainstreaming Biodiversity Management into County Governance
3.2 Interaction with Other Agencies
3.3 International Biodiversity Initiatives

Chapter 4 - Public Participation

4.1 Public Participation and Access
4.2 Biodiversity awareness-raising/education projects

Glossary
Primary Sources
Map Sources
Back Cover
Complete Report
The King County Biodiversity Report can also be viewed in its entirety here.
Related Information
Related Agencies