Looking for benthic macroinvertebrates is something anyone can do, and it's a fun to way to learn about our local streams. Follow these tips to minimize your impact to the stream ecosystem during your visit.
Roads and trails
When you travel to a stream site, don't drive off of established roads. If you drive off road in the woods or along a stream, your car disturbs wildlife and degrades their habitats by adding sediment to streams, destroying plants that control erosion, and even crushing animal dens. If you want to see a stream more closely, park your car in a lot or on the side of the road and explore by foot.
Use established trails when you are walking around your watershed. By using trails you will help reduce the amount of wear on the natural habitat, you won't damage herbs, shrubs, and grasses, and hopefully you won't get lost.
Trekking through
Get a landowner's permission if you will be crossing his or her property.
Walk through your watershed quietly. Listen to the sounds of wildlife residents; disturb them as little as possible.
Leave your dog at home. Dogs can disturb or injure wildlife and, in turn, can be injured by other animals.
Take care not to disturb or alter wildlife habitat. A dead tree trunk or hole in the ground may be home to many kinds of wildlife.
You know the saying: "Take only pictures; leave only footprints." Make observations and document evidence of wildlife, plants, and other organisms, but don't remove eggs, nests, organisms, or whole plants.
If you feel the need to sacrifice plant or macroinvertebrate specimens for better identification, please do so sparingly. Plants provide food and shelter for wildlife and macroinvertebrates. Macroinvertebrates are food for fish, birds, frogs, and salamanders.
The stream
Put any rocks and woody debris you remove back into the stream. They are habitats for fish, bugs, and plants.
Know what kinds of fish live in a stream and their life histories. Know when they spawn and when young fish emerge from the gravel streambed. Fish are most vulnerable at these times and they should be disturbed as little as possible.
Try to minimize impacts on the stream and its fragile stream banks. Breakdown of stream banks increases erosion and adds excessive sediment to a stream. If you are surveying or monitoring a stream with a group, only those people actually making the measurement should be in the stream or on its banks. Choose access points to the stream that cause the least disturbance.
Tips to minimize the spread of invasive species
Trash
Take your trash with you for recycling. If nature calls, locate your "bathroom facilities" at least 100 yards away from a stream or lake.
For questions about information on this page, please contact Jenée Colton, Lead, Toxicology and Contaminant Assessment Group or Kate Macneale, Environmental Scientist.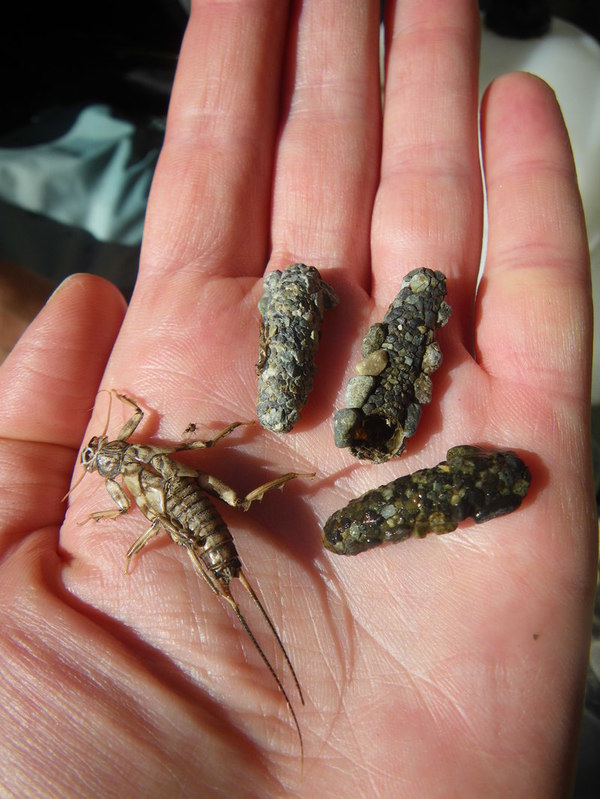 Look for exoskeletons or old cases of bugs that have hatched and become adults!
Related information
Related agencies