Estimating toxics loadings to the Lake Washington Watershed
Project location: Lake Washington Watershed, King County, Washington
Project period: September 2010 through March, 2014
U.S. EPA grant amount: $698,646

Problem
Fish containing polychlorinated biphenyls (PCBs) can pose a health risk to people who consume them. Lake Washington, the largest freshwater lake in King County, Washington, has fish with some of the highest concentrations of polychlorinated biphenyls (PCBs) measured across the state. PCBs were historically used in commercial products and industry but their manufacture was banned in 1977. No one knows exactly where PCBs in Lake Washington fishes originate. This project is intended to help answer the following questions.
What input pathways contribute PCBs to Lake Washington?
Do ongoing sources of PCBs entering the lake need to be reduced?
Are fish accumulating PCBs just from historical pollution present in lake sediments?
To what extent do PCBs exit the Ship Canal and contaminate Puget Sound?
Please refer to the EPA's PCB website (external link) for background information on PCBs.
Project objectives
This project will develop quantitative tools to inform water quality managers of the major PCB and polybrominated diphenyl ether (PBDE) pathways to the Lake Washington watershed and Elliott Bay. Pathways that will be evaluated include combined sewer overflows (CSOs), stormwater discharges, road runoff, river input, and air deposition.
NOTE: Because brominated flame-retardants behave similarly to PCBs and may cause health effects, this project collects field data on PBDEs to investigate if they may also pose a risk to people consuming Lake Washington fish.
The project's quantitative tools consist of:
Annual loadings of polychlorinated biphenyls (PCBs) and polybrominated diphenyl ethers (PBDEs) estimated from existing and new data collected by this project.
Fate and transport and bioaccumulation models will be developed to enable evaluation of PCB reduction scenarios. The results will inform water quality managers of the most important PCB pathways needing control to reach safe levels in fish.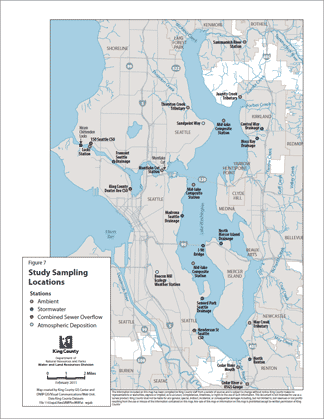 Sampling locations map
(2 Mb Adobe
Acrobat
)
Project components
Field study: The field study will collect data needed to estimate PCB and PBDE loadings (total mass per year) entering Lake Washington and Elliott Bay (via the Ship Canal). These data include total organic carbon, PCB and PBDE congener concentrations and associated flow rates for each pathway (tributaries, atmospheric deposition, stormwater runoff, CSO discharge, and road runoff). These data will be collected over a year.
Model development: Historical and new data will be used to estimate the loadings for each pathway and the total for Lake Washington and Elliott Bay. Also, a fate and transport model and a bioaccumulation model will be developed to allow simulation or testing of Lake Washington fish tissue response to different PCB reduction scenarios. This latter step will not be conducted for PBDE's because too little data are available for fish tissue and sediment.
PCB reduction options: Information on relative pathway contributions will be used by the project team and advisory panel to select a variety of scenarios for modeling outcomes. Scenarios will differ by the total PCB load that is reduced. Running various simulations will inform on the reduction necessary to bring fish tissue concentrations to safe levels for human consumption.
Management Discussion: The outcome of this project will inform water quality managers and stakeholders (on Project Advisory Panel) of the key PCB pathways needing reduction to reach safe levels in Lake Washington fish tissue. The information will be shared with technical and policy groups including the Puget Sound Partnership and a final report will be posted on this website.
Advisory Panel: Representatives from community groups and different levels of government were invited to form a project advisory panel to provide input and guidance to the project team over the whole project period. The advisory panel is comprised of people who are all interested in reducing PCB bioaccumulation in Lake Washington fish.
Fred Bergdolt, Washington State Department of Transportation
Betsy Cooper, King County, Wastewater Treatment Division
Jonathan Frodge, City of Seattle
Jenny Gaus, City of Kirkland
Joan Hardy, Washington State Department of Health
Rachel McCrea, Washington State Department of Ecology
Doug Navetski, King County, Surface Water Management
Andy Rheaume, City of Redmond
Ron Straka, City of Renton
Bruce Tiffany, King County, Wastewater Treatment Division
Heather Trim, People for Puget Sound
Patrick Yamashita, City of Mercer Island
Project Status:
This project was completed on March 30, 2014. Please see the Final Report (link below) for a summary of project findings.
Project products - download here:
King County project team
Jenée Colton: Grant Project Manager and Bioaccumulation Modeler,
Richard Jack: Technical Support and QA Officer
Curtis DeGasperi: Modeler
Deborah Lester: Document Review
Sally Abella: Lakes Water Quality advisor
Colin Elliott: King County Environmental Lab Project Manager
Recognition of EPA Funding
This project has been funded wholly or in part by the United States Environmental Protection Agency under assistance agreement PC-00J285-01 to King County. The contents of this document do not necessarily reflect the view and policies of the Environmental Protection Agency nor does mention of trade names or commercial products constitute endorsement or recommendation for use.
Title VI Notice
It is King County policy to assure that no person shall on the grounds of race, color, national origin or sex, as provided by Title VI of the Civil Rights Act of 1964, be excluded from participating in, be denied the benefits of or be otherwise discriminated against under any of its federally funded programs and activities. Any person who believes his/her Title VI protection has been violated may file a complaint with the Title VI Coordinator.
For Title VI complaint forms and advice, please visit King County's Title VI coordination page.
For more information about estimating toxics loadings to the Lake Washington Watershed, please contact Jenée Colton, Project Manager, King County Science and Technical Support Section.
Related information
Related agencies
News and announcements
The Washington Department of Health (WDOH) issued a fish consumption advisory (external link) for polychlorinated biphenyls (PCBs) in Lake Washington which includes yellow perch, cutthroat trout, carp, and northern pike minnow;
Fish consumption advisories also exist across Puget Sound for multiple fish species due to health risks from PCBs and mercury (external link);
Limited consumption of yellow perch and cutthroat trout (common recreational species) is advised in Lake Washington, and WDOH recommends no consumption of carp or northern pikeminnow (species consumed by multiple ethnic groups);
Toxic effects of PCBs and PBDEs:
The bioaccumulation of PCBs and polybrominated diphenyl ethers (PBDEs) presents potential health risks to both aquatic life and humans:
PCBs cause a variety of human health effects including developmental and neurological effects in children whose mothers consumed contaminated fish prior to and during pregnancy;
PBDEs accumulate in mammals similarly to PCBs and PBDEs have been detected in human breast milk at much higher levels in the United States than Europe;
PBDEs can cause adverse brain development, liver and thyroid effects in laboratory animals;
Marine mammals in Puget Sound have some of the highest measured levels of PCBs and PBDEs in the world;
PCBs and PBDEs are thought to be contributing to the population decline of Puget Sound killer whales.