Urbanization and Biodiversity in King County
The transformation of King County's landscape resulting from development, agriculture, and forestry has impacted many if not all native wildlife species in King County. Vertebrate and invertebrate wildlife species have experienced habitat loss and alteration, interrupted migration patterns, displacement, reduced reproductive success, and exposure to invasive species. As the county's landscape has become fragmented and vegetated habitats have shrunk, animals populations have been split and isolated. In many instances the landscape is no longer capable of supporting populations large enough to maintain themselves. Grizzly bears and gray wolf populations both once thrived in King County but now only show up here very rarely and usually because they are on their way someplace else.
When forest patches become too fragmented, the animals that use this habitat become more susceptible to predators, (including nest predators) and parasites. Non-native invasive animal species continue to be a growing threat in King County, as more are introduced over time.
Development also brings pollution, which is another threat to biodiversity. Fishes and marine mammals seem to be particularly susceptible to pollution. Toxic contaminants include chemicals used for industrial, consumer, and agricultural purposes, transportation-related chemicals, and byproducts from manufacturing and combustion of fossil fuels. For example, harbor seals and killer whales carry large concentrations of polychlorinated biphenyl (PCBs) compounds and increasingly greater concentrations of flame retardant chemicals in their fatty tissue. The effects of these chemical loads are not well known, but in the case of killer whales, the contaminants can weaken immune systems, cause reproductive failure, and lower the survival rate of calves through maternal transfer of contaminants.
Shoreline armoring, another aspect of development, leads to a loss of marine habitat and interferes with sediment transport processes. Throughout Puget Sound, armoring has led to a decline in forage fish spawning habitat, feeding habitat for marine birds, and total area and abundance of marine plants.
Another effect of urbanization on biodiversity, is that often when we develop where the animals once lived, sometimes they don't move out. Coyotes are often seen even in the city limits of Seattle. Black bears frequently show up at trash cans in rural areas to see what tasty morsels can be had. Our Wildlife in Urban and Urbanizing Areas page goes into more detail about these issues.
Local Action for Biodiversity
In 2006, King County became involved in global urban biodiversity initiative called Local Action for Biodiversity (LAB) through ICLEI - Local Governments for Sustainability. The overarching aim of LAB is to improve biodiversity management at the level of local government, in recognition of their enormous potential for contributing locally to conserving the global common good of biodiversity.
LAB's pioneer phase ran from 2006 to 2009. King County was one of 21 "pioneer" municipalities, nearly all of which were large cities or agencies with large urban areas. These local and regional authorities from around the world were representative of over 54 million citizens. These LAB pioneers are leading the way for managing and conserving biodiversity at local government level. King County's participation in this program signals a commitment to biodiversity management and conservation locally within the County and an acknowledgement of the importance of an exchange of ideas globally with our colleagues around the world.
It was through LAB that King County produced its first Biodiversity Report.
Wildlife and Roads
Road Ecology is a growing field. Many transportation agencies are now taking wildlife crossings into consideration during their planning. King County Department of Transportation as well as Washington Department of Transportation are both working on projects with wildlife crossings specifically designed. Washington DOT's projects are along Interstate 90. Successful crossing projects have been accomplished in British Columbia, Montana, California, Florida, New England, and all over Europe, to name a few. King County's projects are centered around the Novelty Hill Road area and are in the design phases.
NE Novelty Hill Road Project (CIP 100992)
Wildlife cameras have been placed at strategic areas between NE Union Hill Road (southern boundary) and NE Novelty Hill Road (northern boundary), Bear Creek (western boundary), Upper Stensland Creek (eastern boundary) with emphasis on the impending extension of 195th/196th Ave NE. A wildlife underpass crossing structure will be placed beneath the new extension road (195th/196th Ave NE) to help reduce animal vehicle interactions and facilitate wildlife movements and connectivity of wildlife habitats. Currently, the cameras are capturing movements of wildlife in the vicinity of the new crossing to collect pre-construction baseline data. Once construction of the crossing has been completed, cameras will be permanently placed at the approaches to the underpass and inside of the crossing to document successful/unsuccessful passings, as well as comparing movements before and after construction.
Monitoring cameras were erected in November 2008. To date, 10 species of mammals and 9 species of birds have been recorded. Notable species are Columbia black-tailed deer, coyote, bobcat, raccoon, red fox, and Great Blue Heron. See photos below.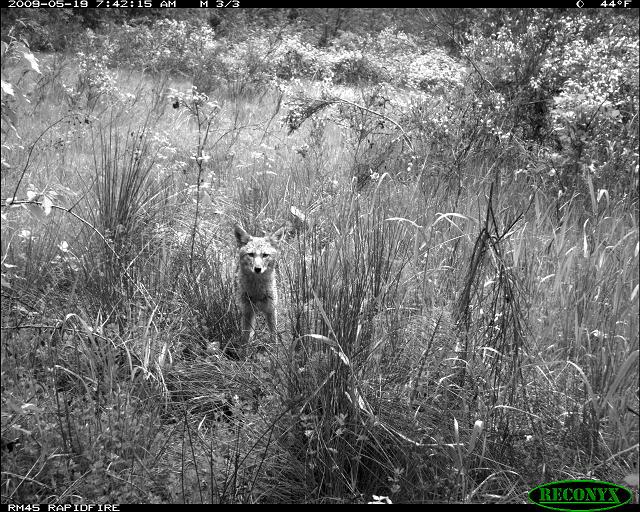 Related information
Related agencies