Sustainable building
King County, Washington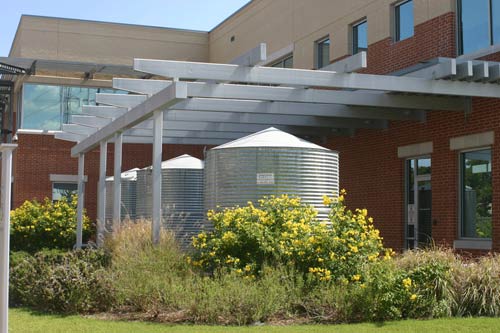 Green tools for green building
Comprehensive resources to help professional builders recycle, reduce waste, save money, and earn recognition for embracing sustainable building practices in King County.
Green building documents
Find a variety of green building studies and reference materials to help stimulate and ground creativity.
Green building standards: LEED
Look up how to apply the LEED Green Building Rating System with current King County building codes. Provided to help owners, architects, designers, contractors, project managers or building professionals develop green buildings in King County.
King County Sustainable Cities
Toolkit for city and county governments building for the long-term.
Energize! Heat Pump Program
Free and reduced cost heat pumps for income qualifying residents in urban unincorporated King County areas of North Highline (White Center) and Skyway/West Hill.
King County C-PACER Program
Property assessed financing mechanism to help commercial, industrial, agricultural and multifamily buildings become more efficient and resilient.
King County building permits
Find information about building permits and environmental review for developers working on building projects in King County, provided by the Department of Local Services (formerly Dept. of Permits and Environmental Review).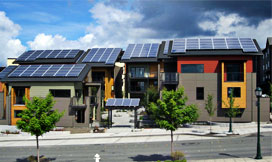 Green Bonds
Financial investments that fund projects that reduce climate pollution and improve water quality in King County.
Pacific Northwest native plants
Find out how to use and where to order native plants that are adapted to thrive in our area. Landscape designs using native plants are beautiful, resist diseases and pests, create habitat for native wildlife and help reduce water consumption, saving homeowners money.
Northwest native plant guide
Browse photos of northwest native plants, refer to planting plan ideas and reduce the work of ordering native plants (and potential for mistakes) by building your plant list online.
How to build a rain garden
Rain gardens filter pollution from stormwater and support unusual native plants.
Transfer of development rights program
Learn how individuals can buy and sell residential development rights to preserve public benefits-- for example farms, forestlands, open space, regional trails and designated urban separator lands and habitat for threatened or endangered species. Owners benefit financially through the transfer of development rights to more appropriate areas while the public benefits through permanent preservation of these lands.
Resource protection incentives
Apply for tax reductions in rural King County in exchange for practices that benefit public interests. Includes the public benefit rating system or PBRS.
Surface water management fee discounts and cost-sharing program
Reduce your SWM fee by applying sustainable building practices that reduce and cleanse your stormwater.
King County surface water design manual
Supporting documents and software to help engineers design storm drainage systems that cleanse stormwater and reduce flooding problems for downstream neighbors. Architectural tips to help design attractive stormwater ponds can be found by reading the Integrated Pond.
Stormwater pollution prevention manual
Look up best practices to apply on business and multifamily lands to help control stormwater pollution, to avoid fouling lakes, streams and Puget Sound.
Puget Sound shoreline stewardship guidebook
Provides info and contacts for owners of beach and bluff shorelines to learn about natural shoreline protection, manage runoff, use native plants, control aggressive non-native plants, and maintain septic systems.
Rural stewardship planning
Rural homeowners in King County can receive free technical assistance with site design and property management practices to achieve more flexibility in development and resource protection on their property.
What do I do with...?
Find recycling and disposal options for common materials including construction leftovers, demolition debris, landscaping waste, and appliances.
Resource recovery
Working to generate reusable resources from yesterday's waste.
Annual Growth Report
Report about actual growth in King County based on projects and permits.
Infographic: learn about King County's efforts to confront climate change


Local Governments and Sustainability: Examples from King County, Washington (Acrobat pdf)
Presentation by Bob Burns, deputy director of King County Department of Natural Resources and Parks at the China-US Professional Workshop on Regional Sustainable Development (external link), University of Washington in Seattle.
Construction Stormwater Pollution Prevention Standards
Appendix D of the King County Surface Water Design Manual. 1 MB Adobe Acrobat file.
History of King County's regional wastewater treatment utility
Read how our region worked to keep our lakes and Puget Sound clean and healthy, including the early days of sewage treatment and disposal in King County, the birth of Metro and development of regional facilities to process the waste produced by our metropolitan area.
Habitat restoration projects
Projects undertaken by King County to restore the health of rivers, streams and Puget Sound for endangered and other species.
King County Comprehensive Plan
Read the policies that guide King County land use and development regulations, and regional services such as transit, sewers, parks, trails and open space.
Shoreline Management Program
Learn about King County's program to protect shorelines, promote public access, and establish land use priorities for shorelines of Puget Sound, large rivers and lakes.
Wetland information
Comprehensive resources related to wetlands in King County including info on the importance of wetlands, map resources, development regulations, and programs.
Flood buyout and home elevation program
This page answers frequently asked questions about King County's program to buy out flood-prone houses and provide homeowner assistance in having homes elevated. The page also provides information about related programs that can help homeowners affected by flooding.
Sustainable Building Practices
Sustainable or green building practices cover all aspects of building, including:
land preparation
materials selection
life-cycle of the building (construction, operation and maintenance, demolition)
Sustainable building includes such practices as
redevelopment of inefficiently designed or environmentally damaged sites
job-site recycling of construction materials
native vegetation landscapes
stream and wetland protection and restoration
natural drainage
energy and water efficiency
low toxicity materials
use of recycled materials
reduced use of land and materials
design for re-use
revitalization of decayed areas to improve residents' quality of life