Where can I volunteer to fight invasive weeds?
Ongoing Volunteer Opportunities
King County Weed Watchers - contact Sasha Shaw for more information.
King County Parks and Natural Lands - contact Lina Rose. Check out The Dirt for upcoming hands-on volunteer events.
Miller/Walker Creek Volunteer Events - schedule for stewardship work parties to help protect Miller and Walker Creeks in Burien, Normandy Park and SeaTac.
EarthCorps - volunteer opportunities for individuals and/or groups to work on trails, remove invasive plants, and plant native species. Lots of great opportunities for completing Service Learning hours for school credit.
Forterra Events - volunteer events held by Forterra's Green City Partnerships
Green Seattle Partnership - forest restoration volunteers remove invasive plants, plant new native trees and understory plants, and do long term maintenance and monitoring of restoration sites.
King Conservation District - native plant nursery, restoration and stewardship projects, and more!
Mountains to Sound Greenway Trust - contact the volunteer program at 206-373-1600, volunteer@mtsgreenway.org.
Delridge Neighborhoods Development Association (DNDA)/Urban Forest Restoration - DNDA's Urban Forest Restoration Program is committed to restoring Seattle's largest remaining forest, the West Duwamish Greenbelt and Longfellow Creek greenspaces. Volunteer events are every Tuesday and Saturday throughout the year. In addition to restoring habitat, volunteers enjoy free live music and outdoor art activities during many of our work parties.
Other Cities – contact your local parks department or utilities to see if they have work parties or volunteer events. If they don't, offer to volunteer in your neighborhood and gather neighbors for a work party.
Where do I get money for projects?
King County Environmental Grants and Awards. List of environmental grants and awards available from King County.
King County Community Engagement Grants. The purpose of the Community Engagement Grants is to fund community projects that offer unincorporated area residents in the Community Service Areas an opportunity to participate and be more connected in their communities.
Aquatic Invasive Plants Management Grants Program, administered by the Washington State Department of Ecology. Grant projects must address prevention and/or control of freshwater, invasive, non-native aquatic plants. The types of activities funded include: Planning, education, monitoring, implementation, pilot/demonstration projects, surveillance and mapping projects. Cities, counties, state agencies, tribes, and special purpose districts (does not include lake management districts) are eligible to receive grants. Lakes groups and other private organizations must work in conjunction with their local governments to receive funding for projects.
King Conservation District Grant Program. The King Conservation District awards grants for projects that directly improve the condition of natural resources, provide education and outreach to increase awareness, build capacity to enhance implementation of natural resource improvement projects and implement pilot or demonstration projects.
City of Seattle Department of Neighborhoods Matching Fund. For more information: 206-684-0464.
Volunteer photos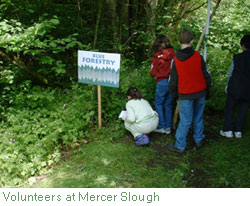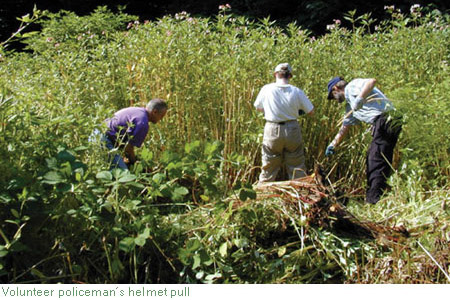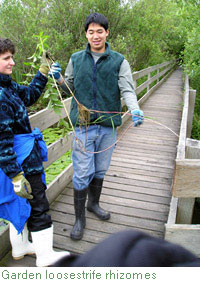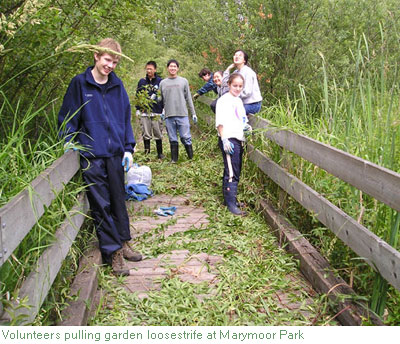 Related information
Related agencies
---
Program offices are located at 201 S. Jackson St., Suite 600, Seattle, WA 98104. To contact staff, see the Noxious Weed Control Program Directory, send an email, or call 206-477-WEED (206-477-9333).