Three key parts of rural stewardship plan development
Consider your objectives and your property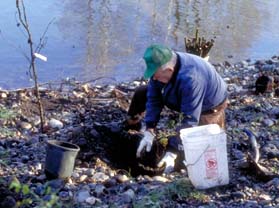 Replanting a stream buffer is an example of a habitat protection
Is a rural stewardship plan right for you?
What goals do you have for your property? What changes would you like to make? Habitat restoration? House remodel? New development?
A King County rural steward will help you assess your property and how a Plan would fit your needs.
You'll also get help to identify natural features in your landscape you want to protect or enhance.
Explore your options
With the help of a Steward, you can choose your best options for protecting and managing the natural resources on your property while meeting your goals.
If you are planning to build or expand a house or clear part of your property, we will help you figure out protections to offset any environmental impacts and get you started in the permitting process.
Develop your plan
Your final plan will include an agreed upon set of management actions and a timeline for implementation.
You will also develop a plan to monitor the effectiveness of those actions and adjust them if needed.
Good stewardship will help ensure your plan's success
Changes in land use may have both direct and indirect impacts on natural resources. For instance, reducing the size of a wetland's buffer may reduce its wildlife habitat values, groundwater recharge capability, and ability to store and filter water. In accordance with the Rural Stewardship Planning goals, you will need to select management actions for your property that maintain or enhance the level of ecological benefits provided by your natural resources.
These Best Management Practices ("BMPs") will vary with your site and your development plans. Management practices address issues like vegetation management, wildlife habitat protection and enhancement, wetland and stream protection, stormwater management, and land clearing methods.
What's included in the plan?
An inventory and map showing the existing conditions as well as critical areas, their buffers, and the clearing restrictions under the standard development regulations
A site map showing your proposed development or other activities, natural areas you are protecting, and the protection and enhancement actions you have selected
A timeline for implementing your projects and habitat protections and for followup monitoring so you will know if your protection actions are working
Certain development requirements may still apply
If your plan is focused on protecting and restoring habitat and you are not clearing or developing your land, your plan is ready to implement!
However, if you are developing your property, you may still need to comply with some development requirements, and you may need permits from other agencies. If you have worked closely with county staff to develop your plan, you may have completed your critical areas pre-application review as part of the process. With an approved rural stewardship plan, getting subsequent permits from King County should also be quicker, since the county has worked with you and already knows about your property and your plans.
For questions about these programs, please contact Pesha Klein, Environmental Scientist III, DPER Critical Areas Review.