This is our five-year goal from our 2020 Strategic Climate Action Plan to plant, protect, and prepare a combined 3 million trees by the end of 2025. This effort contributes to climate change mitigation, forest health, improved salmon habitat, and more tree canopy in urban areas.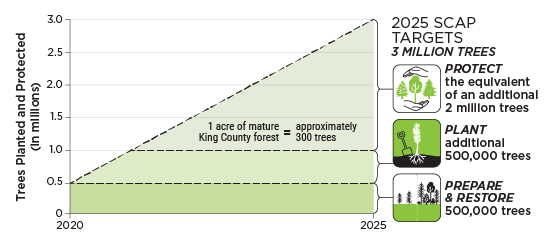 We did it! With our partners, we planted over 1 Million Trees!
Where do we go from here?
We get bigger, we get better.
Planting trees continues to be an important aspect of our work and we know that many parts of the county can still benefit from additional trees and more canopy cover.
In addition to planting, we need to protect quality forests that provide good habitat for fish and other wildlife, and we need to steward those forests so they remain healthy and resilient for future generations.
Welcome to 3 Million Trees!
A more comprehensive approach to promote healthy, resilient forests – and communities!
We are building on the momentum of our successful 1 Million Trees partnership with a more comprehensive approach that promotes healthy and ecologically productive forests.
Efforts to achieve 3 Million Trees will help us deliver many important benefits, including:
Increased carbon storage to help slow climate change;
Better human health benefits;
Higher quality salmon habitat;
Improved water quality;
Equitable access to forests and green space, especially in historically underinvested areas.








An integrated approach to confront climate change and promote clean water and healthy habitat
King County is implementing several integrated plans and initiatives that address forest protection and forest health. Click the links below to learn more: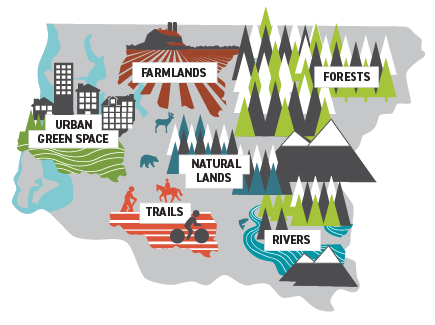 If you would like more information on the 3 Million Trees initiative, contact Sarah Brandt at sbrandt@kingcounty.gov or 206-263-5682.