Hospital wastewater discharges
The King County Industrial Waste Program (KCIW) issues discharge authorizations to area hospitals that discharge wastewater to the King County sewage system.
The discharge authorizations serve to ensure that hospital discharges meet the county's local limits for pollutants, to protect human health and the environment and the public's investment in wastewater facilities. A King County Public Rule regulates such discharges to the sewer.
We know that the industrial waste authorization and application process is complex. Please
contact us
if you have questions and our staff will be happy to assist you. If you have difficulty viewing or downloading documents, please visit
Software Help
.
Resources for those discharging medical and hospital laboratory wastewater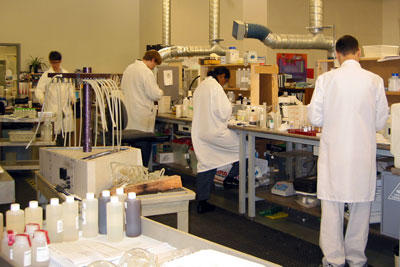 Background
In 2002, KCIW began issuing hospital discharge authorizations. Previously, King County hospitals were discharging wastes without any written authorization or permit. This practice put the hospitals at risk of enforcement by the Washington State Department of Ecology (Ecology).
KCIW initiated a collaborative process, offering hospitals and the general public the opportunity to comment on the process and the discharge authorization document. KCIW then finalized the wording of the authorization and performed hospital site visits.