Contaminated industrial stormwater
KCIW regulates and gives approval to discharges of contaminated stormwater to the county sewer system.
Stormwater becomes contaminated by industrial activities when it falls on areas with material handling equipment or activities, raw materials, intermediate products, final products, waste materials, byproducts or industrial machinery. (See King County Code 28.82.360 for a complete list of industrial activities.)
Where applicable, sewer charges will be levied to those discharging contaminated stormwater to the county sewer system.
The county's sewer capacity may be limited during wet weather months (November - April). Industries should take care not to cause or add to sewage overflows.
Discharging contaminated industrial stormwater to county sewer in separated areas versus combined areas
We know that the industrial waste authorization and application process is complex. Please
contact us
if you have questions and our staff will be happy to assist you. If you have difficulty viewing or downloading documents, please visit
Software Help
.
Discharging to county sewer system
(separated area)
Discharging to county sewer system
(combined area)

Those wishing to discharge contaminated stormwater to the county sewer system in separated areas must complete the following:

More information is available by contacting us and reviewing the fact sheet .

Some areas in the King County sewage system also receive stormwater in addition to sanitary and industrial wastewater. The sewer pipes in those areas are called combined sewers and are found primarily in the City of Seattle.

If facilities are located in a combined sewer area KCIW expects them to follow best management practices. These are contained in the fact sheet .

Facilities in combined sewer areas planning to discharge stormwater contaminated by industrial activities to the county sewer system may need to complete a standard KCIW industrial wastewater discharge permit application , and should contact us to evaluate the need for doing so.

Facilities in combined areas will not need to complete a supplemental application for discharge of contaminated stormwater.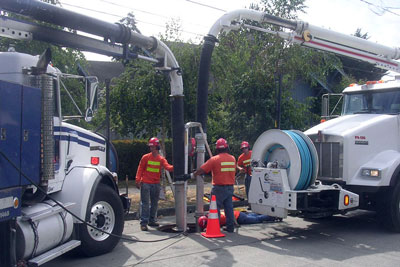 Eductor "vactor" trucks
Eductor trucks (also know as vactor trucks) and vactor stations decanting the liquid portion of contaminated stormwater into the King County sewer system require written authorization from the King County Industrial Waste Program.
Decanting into ordinary manholes is illegal and dangerous to sewer workers.
Eductor trucks vacuum stormwater, wastewater and associated solids into a tank located on a truck for transport and disposal. They are generally known as "vactor" trucks, which references a particular brand name. Generally vactor trucks are used to clean stormwater drainage systems. The solids associated with cleaning these systems may be high in heavy metals and/or petroleum hydrocarbons and should be disposed of in an acceptable manner. There are several private operators and governmental agencies authorized to decant stormwater liquids within the county.