Bingaman Pond Natural Area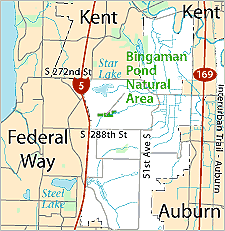 Bingaman Pond Natural Area is located between Auburn and Federal Way, in the potential annexation area of Federal Way. It is anticipated that this property will transfer to Federal Way with future annexations.
The 17-acre property is located along on small unnamed tributary to the Green River, and includes part of the Bingaman Pond wetland complex. The western part of the wetland was historically dammed for cranberry production. Portions of the dam are still visible at the site. The Class 1 wetland supports open water, scrub-shrub and forest vegetation, supporting a wide variety of bird species. The western half of the site also includes upland forests on slopes above the stream valley.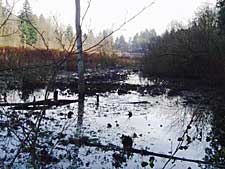 The entrance to the site is on the property's south side, at the end of 37th Place S. at S. 284th Place. There is no developed parking area. The site is used primarily by local neighbors for walking and nature observation. Recent work by EarthCorps helped to establish a system of informal trails, remove invasive species, and perform habitat restoration.
The Bingaman Pond Natural Area Site Management Guidelines are available in Adobe Acrobat format, in sections for faster download. For help using Acrobat files, please visit our Acrobat help page.

Download Here:
Bingaman Pond Natural Area Site Management Guidelines