Ecological lands
King County, Washington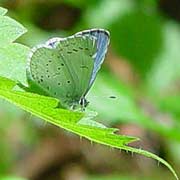 King County owns 73 ecological lands totaling about 5,200 acres, located mostly in the unincorporated areas between the county's Urban Growth Boundary and the Forest Production District boundary. These properties contain a diversity of native vegetation that provides fish and wildlife habitat and embodies the beauty and character of our region's landscape. Ecological lands often support wetlands, riparian areas, small lakes and ponds, and rare habitats. The management goals for ecological lands are to conserve and enhance ecological value and to accommodate passive recreational use that does not harm the ecological resources on the site. Ecological sites are used by visitors for low-impact activities such as walking, nature observation, or fishing. Horseback riding is appropriate on certain sites. The programmatic plan for ecological lands (Adobe Acrobat PDF) describes general policies for ecological land management.
In addition to managing the ecological lands that are owned by King County, the Natural Resource Lands program manages conservation easements on about 1,900 acres of privately owned land. These easements were acquired to preserve the conservation values of the properties, and restrict development and disturbance on these sites (note: these lands remain privately owned).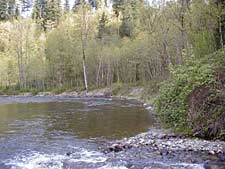 Big Bend natural area is an exemplary ecological site located in the Lower Cedar River Basin east of Renton. The site contains 100 acres of mature second-growth forests, wetlands, more than a mile of river-front along both banks of the Cedar River, and includes land adjacent to the regional Cedar River Trail. This portion of the river provides very high-quality spawning habitat for salmon. A section of steep bluffs at Big Bend are a natural source of spawning gravel for the sockeye, coho, and chinook salmon that spawn in the Cedar River. The Cedar River Trail crosses through Big Bend natural area from the nearby Landsburg Trailhead. Trails on Big Bend are used by pedestrians and equestrians.

King County ecological lands
Auburn Narrows natural area, Auburn Black Diamond Rd and SE Green Valley Rd, Auburn
Bass Lake Complex natural area, SE 387th St and 258th Ave SE, Enumclaw
Bassett Pond natural area, NE 165th St and 179th Pl NE, Redmond
Belmondo Reach natural area, 17454 201st Pl SE, Maple Valley
Big Bend natural area, SE 243rd St and 270th Ave SE, Maple Valley
Big Spring/Newaukum Creek natural area, 244th Ave SE and SE 424th St, Enumclaw
Bingaman Pond natural area, S. 284th Place and 37th Place S., Auburn
BN Peninsula natural area, 24095 248th Ave SE, Maple Valley
Carnation Marsh natural area, 733 W. Snoqualmie River Rd NE, Carnation
Cavanaugh Pond natural area, 18015 SE Renton Maple Valley Hwy, Renton
Cedar Grove natural area, SE Jones Rd and Renton Maple Valley Rd SE, Renton
Cedar Grove Road natural area, 18167 Cedar Grove Rd, Renton
Cemetery Reach natural area, 268th Ave SE and SE 274th St, Ravensdale
Chinook Bend natural area, 310th Ave NE and NE Carnation Farm Rd, Carnation
Cold Creek natural area, 180th Ave NE and Woodinville Duvall Rd, Woodinville
Covington natural area, 29006 196th Ave SE, Covington
Crow Marsh natural area, SE Green River Gorge Road and 285th Ave SE, Ravensdale
Dorre Don Reach natural area, across the Cedar River from Lower Dorre Don Way SE
Evans Creek natural area, 196th NE and NE 60th, Redmond
Fall City natural area, 3000 Block of Neal Road SE, Fall City
Flaming Geyser natural area, 228th Pl. SE and SE Green Valley Rd, Auburn
Green River natural area, 37000 190th Ave SE, Auburn
Griffin Creek natural area, 324th Ave NE and NE 11th St, Carnation
Hatchery natural area, Auburn Black Diamond Rd and SE Green Valley Rd, Auburn
Hyde Lake natural area, 304th Ave SE and 355th St, Cumberland
Inglewood Wetlands, NE 166th Pl. and 171 St, Kenmore
Issaquah Creek Park natural area, SE 104th St and 234th Ave SE, Issaquah
Jones Reach natural area, SE 193rd St and Jones Road SE, Renton
Kanaskat natural area, SE 312th St and 348th Ave SE, Kanaskat
Kathryn C. Lewis natural area, 23320 Union Hill Rd, Redmond
Lake Desire natural area, East Lake Desire Drive SE and 174th Ave SE, Renton
Lake Desire 2 natural area, East Lake Desire Drive SE and 175th Ave SE, Renton
Landsburg Reach natural area, SE Summit Landsburg Rd and SE 253rd St, Ravensdale
Little Soos Creek Wetlands natural area, 17998 SE 261 St, Covington
Little Si natural area, 436th Ave SE and SE 114th St, North Bend, WA 98045
Lower Lions Reach natural area, on SE 184th Street off of Byers Rd
Lower Bear Creek natural area, at the western terminus of NE 103rd Street in Redmond
May Valley 164th natural area, 164th Ave SE and SE May Valley Road, Renton
Middle Fork Snoqualmie natural area, SE Middle Fork Rd and 116th Ave SE, North Bend
Moss Lake natural area, 10902 NE Moss Lake Rd, Carnation
Mouth of Taylor Reach natural area, 202nd Ave SE and SE Maxwell Rd., Maple Valley
Neely Bridge natural area, N of SE Green Valley Rd and E of Green River, Auburn
Nowak natural area, SE 97th Pl and 315th Ave SE, Issaquah
O'Grady natural area, SE 364th St and 180th Ave SE, Auburn
Patterson Creek natural area, 26201 NE Redmond-Fall City Rd (Hwy 202), Sammamish
Peterson Creek (Lower) Corridor natural area, SE 215th St and SE Petrovitsky Road, Maple Valley
Peterson Lake natural area, SE Petrovitsky Road and 196th Ave SE, Maple Valley
Porter Levee natural area, 12550 SE Green Valley Rd, Auburn
Rainbow Bend natural area, 20501 SE 180th St, Maple Valley
Raging River natural area, Preston Fall City Rd and SE 68th St, Preston
Ravensdale Retreat natural area, 284th Ave SE and SE Kent Kangley Rd, Ravensdale
Ricardi Reach, Jones Reach, Cedar Grove natural areas, Renton Maple Valley Rd, South of Jones Rd, Renton
Rock Creek natural area, SE 248th St and 244th Pl SE, Maple Valley
Tolt River natural area, 353rd Ave NE and Tolt River Road, Carnation