BN Peninsula Natural Area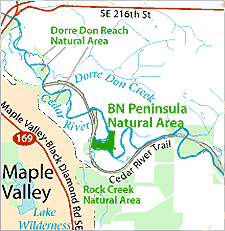 BN Peninsula Natural Area located on the Cedar River at approximately River Mile 18 on the right bank. The site is a mile east of Maple Valley, located on a private road.
BN Peninsula Natural Area is 25 acres in size, consisting of an upper plateau, and steep slopes that drop from the plateau to the valley floor of the Cedar River. The site has not been harvested since early in the century, and supports mature coniferous second-growth forest. Bluffs and steep slopes make much of the site fairly inaccessible. The lowland peninsula at the site is inundated during high flows, located almost entirely in the floodplain. The peninsula supports deciduous species typical of the riparian forest along the Cedar River. The site is primarily accessed by local residents.
The BN Peninsula Natural Area Site Management Guidelines are available in Adobe Acrobat format, in sections for faster download. For help using Acrobat files, please visit our Acrobat help page.

Download Here: