Horsehead Bend Natural Area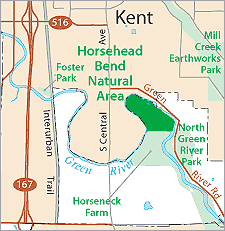 King County purchased Horsehead Bend Natural Area in 1978 from the Children's Home Society of Washington with Forward Thrust and Interagency Committee for Outdoor Recreation (IAC) funds for use as a major urban county park. The 34.91-acre Horsehead Bend Natural Area is located between Kent and Auburn, WA, at approximately river mile (RM) 26 on the Green River. The site is within the Lower Green River Agricultural Production District (APD).
Horsehead Bend Natural Area is a meander bend that has been locked into place by a right bank levee since 1965. The left bank of the river meander forms or borders a terraced area. The site is bordered on the west, north and east sides by the Green River. No other classified wetlands or streams exist on the site. A forested riparian zone includes bigleaf maple and black cottonwood. A grassy area exists in the middle of the site. Himalayan blackberry is encroaching into the grassy area from the riparian area.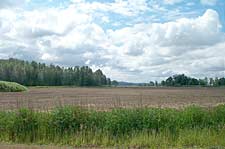 The Middle Green River supports coho, chinook, and chum salmon; and steelhead, rainbow, and cutthroat trout. Bull trout have also been observed. Other verified wildlife includes deer, mergansers, great blue herons, beaver, coyotes, red-tailed hawks, woodpeckers and bald eagles. The King County Wildlife Habitat Network runs through the Green River Corridor at the Horsehead Bend Natural Area.
The Horsehead Bend Natural Area currently has small numbers of visitors engaged in recreational activities--mainly fishing. There are no roads or formal trails on the property. In some places along the rivers edge there are informal trails created by anglers. Inappropriate use has included homeless camps, construction of structures that may be used as shelters for anglers, cutting trees for firewood, and plowing and disking parts of the natural area. Horsehead Bend Natural Area is accessed from the north end of 86th Avenue South, following a narrow trail easement on the edge of farmland to the Natural Area site. There is no parking area at the site.
Evidence of Green River use by three threatened species listed under the Endangered Species Act, chinook salmon, bull trout, and bald eagle, and the presence of great blue herons, a species of concern in Washington State, make habitat preservation and enhancement priorities at the Horsehead Bend Natural Area. Several jurisdictions have expressed interest in implementing restoration efforts at Horsehead Bend Natural Area including the U.S. Army Corps of Engineers (Corps) and the Washington Department of Transportation (WSDOT).
The Horsehead Bend Natural Area Site Management Guidelines will be available at a later date.