Lower Peterson Creek Natural Area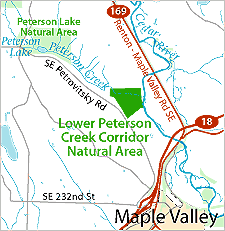 Lower Peterson Creek Corridor Natural Area is located at the confluence of Peterson Creek with the Cedar River, at River Mile 14 on the left bank of the Cedar. The site is located north of Maple Valley and the SR 18/169 interchange, just west of SE Petrovitsky Road near SE 215th Street.
The 70 acre Natural Area is located on a plateau above the adjacent Cedar River and Peterson Creek. The upland parts of the site were fairly recently harvested of coniferous trees, apparently with little replanting to restore conifer growth. Conifer plantings were performed in certain areas upon acquisition. Vegetation is primarily tall shrubs with occasional coniferous trees and older deciduous trees that were not harvested. Non-native blackberry is fairly widespread throughout this upland area.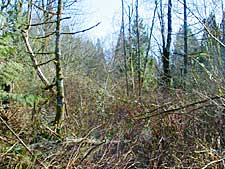 The north part of the site contains very steep slopes down to Peterson Creek, which support dense mature coniferous forest. This stream corridor is noted in the Cedar River Basin Action Plan for high quality habitat conditions, for its forests in the late seral stage nearing old growth in structure and function, and for landsliding that delivers sediments and large woody debris to channel. Steep bluffs on the east side of the property drop 200 feet to the Cedar River.
There is little regular use of the site by visitors. There is no established parking area. Informal trails that were former roads provide pedestrian access to the upland portions of the site. The steep slopes and dense vegetation limit access on the steep portions of the site surrounding Peterson Creek and the Cedar River.
The Lower Peterson Creek Natural Area Site Management Guidelines are available in Adobe Acrobat format, in sections for faster download. For help using Acrobat files, please visit our Acrobat help page.

Download Here:
Lower Peterson Creek Natural Area Site Management Guidelines