May Valley 164th Natural Area
Site Management Guidelines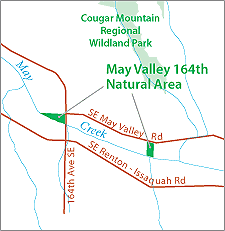 The May Valley 164th Natural Area is a two-acre property located at 11205-164th Avenue SE in the May Valley area of unincorporated King County. The property is bounded by May Creek on its southern edge. Scrub-shrub wetlands at the site are part of an extensive valley wetland system greater than 140 acres in size. May Creek and its associated wetland system contribute to water quality, water quantity regulation, off-channel flood storage, wildlife habitat, and salmonid spawning and rearing habitat in this vicinity.
King County acquired this site in December 2000 as part of the May Creek Basin Action Plan to remove repeatedly flooded buildings, a well, and a septic system from the floodplain. Restoration work at the site has removed structures and fill from the floodplain, controlled invasive weeds on parts of the site, and planted portions of the site with native species. This site is highly constrained by sensitive area restrictions, and access is limited due to a lack of parking. Most of this property is within a wetland, wetland buffer, stream buffer, or 100-year floodplain. The site is appropriate for low levels of passive recreational use by the local community.
The May Valley 164th Natural Area Site Management Guidelines are available in Adobe Acrobat format. For help using Acrobat files, please visit our Acrobat help page.
Download Here:
May Valley Natural Area Site Management Guidelines
Copies of the May Valley 164th Natural Area Site Plan are also available by request from Natural Resource Lands program 206-263-3723 or sending an e-mail to marie.alvarado@kingcounty.gov.