Patterson Creek Natural Area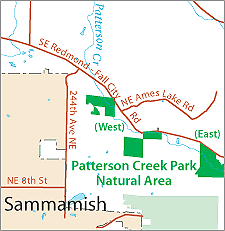 Patterson Creek Natural Area makes up more than 150 acres of wetlands and forests along Patterson Creek and State Highway 202, also known as the Redmond-Fall City Road. The Patterson Creek basin is regionally significant because it is relatively undeveloped and supports high quality wildlife and salmon habitat. The Patterson Creek Natural Area encompasses several significant habitat features such as extensive floodplain wetlands, patches of forested wetlands dominated by Sitka spruce and western red cedar, forested uplands, and over 4500 linear feet of Patterson Creek. Patterson Creek is a King County Class 2 stream system, which provides habitat for a number of salmonids including coho, Chinook, steelhead and cutthroat.
The Natural Area is located near the King County Section 36 Park and Carnation Marsh Natural Area, as well as in the vicinity of the Griffin Creek Park Natural Area, also a Waterways 2000 purchase within the Snoqualmie basin. The listing of wild Puget Sound Chinook and bull trout under the federal Endangered.
Species Act (ESA) will likely result in increased protection and restoration activities within the Snohomish/Snoqualmie basin, and this Natural Area will be an important asset in those efforts.
Significant resources at Patterson Creek Park Natural Area include:
Patterson Creek, a King County Class 2 stream system which provides significant habitat for a number of salmonids including coho, Chinook, steelhead and cutthroat trout,
Tributary 0383, a King County Class 2 stream with the densest concentration of spawning coho in the Patterson basin,
Upland and lowland habitat for a variety of terrestrial and aquatic wildlife, including pileated woodpecker, river otter, and black bear,
Opportunities for onsite restoration of natural floodplain features and enhancement of instream and riparian habitats,
Limited educational and interpretive opportunities in the areas of natural area restoration and wetland interpretation.
The Patterson Creek Park Natural Area Site Management Plan is available in Adobe Acrobat format. For help using Acrobat files, please visit our Acrobat help page. The document is available in parts to reduce download time and minimize computer problems during and after download.
Download Here:
Patterson Creek Park Natural Area Site Management Plan
Figure 1 - Site Location in Snohomish Watershed
Figure 3 - Existing Conditions