Mouth of Taylor Reach Natural Area
Mouth of Taylor Reach Natural Area consists of nearly eight acres of open space at the mouth of Taylor Creek in unincorporated King County, approximately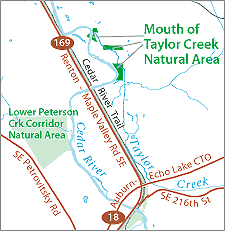 5 miles southeast of Renton and 1.5 miles north of Maple Valley. The properties were acquired as part of the Cedar River Legacy program to protect and restore habitat. The primary restoration goal of the Mouth of Taylor Reach Natural Area is to establish a better connection between the channel and the floodplain. The Lower Cedar River Basin Plan, the Flood Hazard Reduction Plan, and the WRIA 8 Draft Plan Framework and Preliminary Actions List contain a series of recommendations for levee setback and habitat restoration at or near the site. More in-depth analysis of historic river conditions, hydraulics, and hydrology will be needed to determine the best approach for improving the channel-floodplain connection.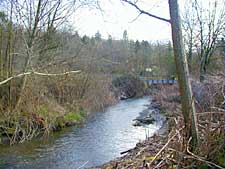 Although parking is constrained (there is no parking area, but parking may occur along the road shoulders), the site is appropriate for low-impact passive recreation such as walking or nature observation in certain parts of the site. The primary area for use is the upland areas of the site off of Maxwell Road SE. Wetlands and backwater areas that run north-south on the property limit access to the Getchman levee which runs along the Cedar River on the southern parcels. Dense shrub vegetation may limit access on portions of the site, in particular to the northern parcels on Maxwell Road and on SE 197th Place where there are no trails through the vegetation into the parcels.
The Mouth of Taylor Reach Natural Area Site Management Guidelines are available in Adobe Acrobat format. For help using Acrobat files, please visit our Acrobat help page.
Download Here:
Mouth of Taylor Reach Natural Area Site Management Guidelines