Sound Tips
King County working to save Puget Sound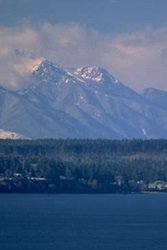 King County is working to safeguard Puget Sound, protect human health and enrich the region's quality of life. Here are some upcoming King County-sponsored events and opportunities, and some "Sound Tips" to help everyone make a difference:
Puget Sound Starts Here

King County is committed to safeguard Puget Sound and protect human health by joining forces with the newly organized Puget Sound Starts Here campaign.

10 tips to help save Puget Sound

The county is a member of the Puget Sound Partnership, which is beginning work on a 15-year plan to protect and restore the Sound. This brochure provides tips on what you can do to protect the Sound.

Volunteer
Bring the family and friends and have fun helping our King County Greenhouse and Nursery, restoration projects and trails. Our restoration projects are focused on restoring stream and wetland buffer habitats for fish and wildlife and improving water quality. In, addition, we have lots of dates to help build backcountry trails.
Reclaiming water resources!
Reclaimed water is wastewater that's treated to such a high level it can be used safely and effectively for nondrinking purposes, such as landscape and agricultural irrigation, heating and cooling and industrial processing. Reclaimed water is available year-round, even during dry summer months or when a drought strains other water resources. Use of reclaimed water also reduces impacts on rivers and streams, which benefit endangered fish species and their habitats.
What happens when you flush?
Clean water, it starts with you and comes to us. To find out more about the fate of wastewater after it leaves your faucets or toilets, check out this year's series of treatment plant open houses that offer tours and information on different parts of the treatment process. As a region, we've cleaned up both Lake Washington and the Puget Sound by voting for regional wastewater treatment 40 years ago. Suitable for families.
Visit the wastewater education website to request a tour with emphasis on reclaimed water and biosolids that are produced from the treatment process.
Recycling collection events!
The Solid Waste Division along with the suburban cities in King County have recycling collection events for items that may not be collected through regular collection services — things such as appliances, tires or electronic equipment. The events serve residents throughout King County, outside the City of Seattle. Residential collection events usually occur during the spring and fall on Saturdays. Business recycling collection events are usually held in summer and fall. Both residential and business recycling collection events are usually held at a school parking lot or a transit system park-and-ride lot. Locations, materials and hours of operation may change from year to year. To view a complete list of all county-wide scheduled events, including dates and locations, visit the Recycling Collection Events calendar.
---
The mission of King County Department of Natural Resources and Parks is to preserve the county's rich, yet fragile natural resources, while accommodating the needs of a human population approaching two million people — all of whom live within the Puget Sound watershed
King County is a member of the Puget Sound Partnership (external link), which is working on a 15-year plan to protect and restore the Sound ecosystem. One of its recommendations is a large-scale public-private effort to build and sustain public awareness at a higher level and to engage citizens in the personal actions and behaviors needed to help protect and restore the Sound.
For more information about Sound Tips, King County and Puget Sound Partnership, please contact Logan Harris, Communications Manager, Dept. of Natural Resources and Parks.
Sound Tips
Around your home...
In your yard...
At school...
DNRP Divisions