Stormwater services and information
King County, Washington
Learn about stormwater and how to reduce pollution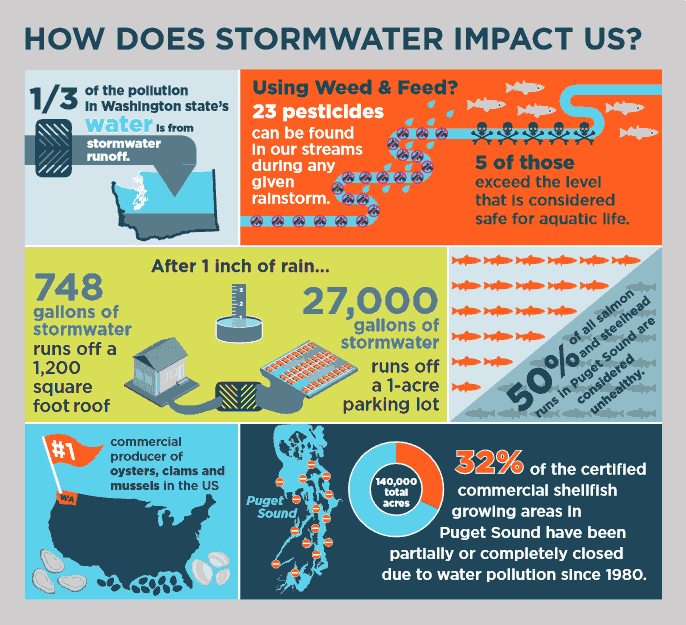 Reduce stormwater and its pollution at home
Introduction to stormwater in King County
Learn about the science of stormwater, common problems related to stormwater including causes and solutions, homeowner tips, regulations, and how to get help from King County.
Neighborhood Drainage Assistance Program (NDAP)
Get technical assistance for questions about construction, permitting, and storm drainage and request capital improvements or repairs to address flooding, erosion and sedimentation problems affecting private property in unincorporated King County.
Drainage design resources for professionals
2021 Surface Water Design Manual
Documents and software to help engineers design storm drainage systems that reduce problems for downstream neighbors and minimize damage to our natural environment.
the Integrated Pond - architectural design tips for building beautiful and usable stormwater facilities
2021 Stormwater Pollution Prevention Manual
KCRTS hydrologic and KCBW hydraulic modeling software
The King County Runoff Time Series (KCRTS) hydrologic model is a required methodology under the 1998 King County Surface Water Design Manual for sizing detention and infiltration flow control facilities.
The King County Backwater (KCBW) Program is a standard step backwater analysis program for pipe networks, culverts, and simple open channels.
Drainage maintenance resources
Stormwater infrastructure
What are stormwater facilities?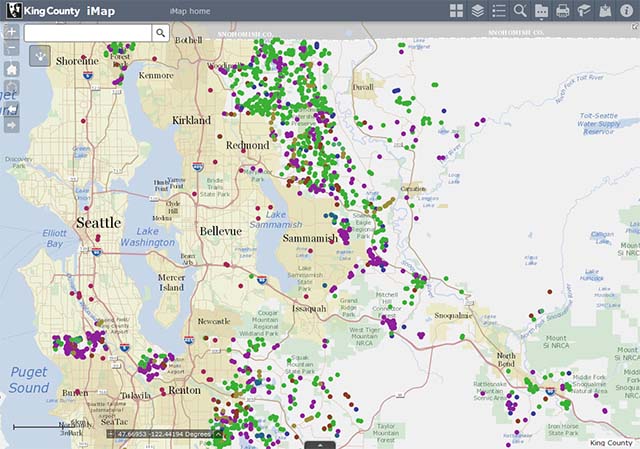 Wastewater system
Combined sewer overflow status map
Some old segments of our regional sewers were designed to drain stormwater too, but these combined systems occasionally flood in big downpours. Combined sewers were designed to let diluted wastewater overflow untreated into rivers, lakes or Puget Sound to avoid sewage backups in homes and businesses.
Regional Inflow and Infiltration Control Program
What King County is doing to reduce the unintended flow of surface water and groundwater into the sewer system.
Stormwater projects and plans
The Restore and Protect Project
Project to identify habitat stressors and recommend restoration and protection actions to improve freshwater quality and aquatic habitat in lowland Puget Sound streams.
King County Stormwater Management Program (SWMP)
Describes King County's action plan to comply with the National Pollutant Discharge Elimination System (NPDES) phase I municipal stormwater permit issued by the Washington State Department of Ecology.
Green River stormwater retrofit planning project
Study modeling and comparing methods to manage stormwater and reduce pollution in developed areas, to establish best practices to manage stormwater.
Miller and Walker Creeks stormwater retrofit planning for improving streams
Project to reduce stormwater pollution in urban creeks that drain into Puget Sound.
King County climate change plan
How King County seeks to reduce greenhouse gas emissions, adapt to projected climate change impacts, and embed mitigation and adaptation into county policy decisions. The plan incorporates issues, goals and actions related to stormwater.
Low impact development
Low impact development resources (external link)
The EPA offers Low Impact Development guides, fact sheets and other resources.
Background information
King County's surface water management fee
How your fees pay for these services in Unincorporated King County including Vashon Island.
Stormwater resources and references
Links to regulatory agencies, environmental organizations, King County stormwater staff directory, and other resources for information on stormwater and related water resource topics.
Interactive map - stormwater complaints, facilities, projects and studies
Note: this link will open a new browser window
View map layers related to stormwater by clicking the layers icon

, expand the "Stormwater Services" group of layers and check those layers you want to view and query including drainage complaints, stormwater facilities, neighborhood drainage projects, and stormwater studies among other things. Click a symbol or area to display the data about it.
Annual reports to Ecology for the NPDES Municipal Stormwater Permit
May 4, 2021
External article, Seattle Times
Installing a rain garden? You could be eligible for a rebate
Aligning Across Watersheds: A Regional Stormwater Summit
Register to join May 18 & 19, 9am-1pm
Apr. 24, 2021
External article, Seattle Times
How to build a rain garden — a creative, pollinator-friendly way to keep pollution from flowing into Puget Sound
Apr. 8, 2021
External article, Bothell-Kenmore Reporter
Salmon update: King County wants cleaner water, more habitat
Dec. 3, 2020
External article, Seattle Times
Tire dust killing coho salmon returning to Puget Sound, new research shows
Nov. 12, 2020
External report, KING5 News
Chances for a La Niña winter in Pacific Northwest a 'sure bet,' meteorologists say