Historic Preservation Program
Whether it's a 19th century log house, an Art Deco school or a prehistoric shell midden, these places are silent witnesses to the history of King County and to its people's lives and cultures. Preserving our significant historic properties is the mission of the King County Historic Preservation Program and the Landmarks Commission. Welcome to this online tool for those interested in preservation efforts throughout the County.
Executive Constantine Presents Historic Preservation Awards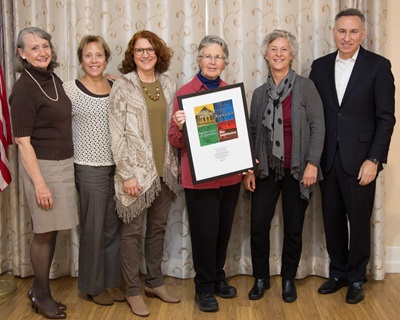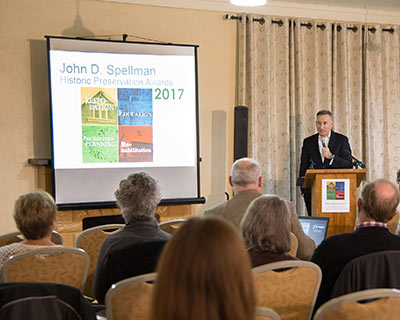 Recipients of the 2017 John D. Spellman Awards for Exemplary Achievement in Historic Preservation were honored October 18 in a celebration led by King County Executive Dow Constantine at the historic Kirkland Woman's Club in downtown Kirkland. The awards are named in honor of John D. Spellman, former King County Executive and Washington Governor, who established the County's Historic Preservation Program in 1980. The 2017 recipients are:
City of Kirkland, for identifying and planning for the protection of Kirkland's historic resources. In the last few years the City has continually updated their historic resources inventory with regular surveys, including newly annexed areas, and the City's most significant mid-century modern buildings. The City has implemented zoning regulations that help maintain the character of historic neighborhoods while accommodating development, and worked with preservation advocates to find a creative alternative to demolition of the historically significant Trueblood House.
Stacey Kroeze, for restoration of original features of the Barton House in Kent's Mill Creek Historic District. Stacey was awarded a 4Culture grant to restore intricate exterior details of the second floor. Her project is encouraging other homeowners in the district to restore and maintain their historic homes. Even the smallest of restorations can make a huge difference in the character of a neighborhood.
Fall City Historical Society, for innovative programming and educating the public about Fall City's heritage and historic resources. Their active board has implemented an ambitious program of educational activities, events, and projects. The society is also the primary steward of the 1886 Fall City Hop Shed, ensuring this landmark structure is stabilized and appropriately interpreted.
Diana Keller, for rehabilitation of the Hill Crest Barn near Carnation. The barn has been in her family since the 1970s, and she has taken on the task of getting it back in working shape. Diana was awarded King County "Barn Again" grants to lift the barn, install a new foundation and floor slab, and to replace siding and repaint the barn its glorious barn red. Contributing both cash match and much of the labor herself, Diana has restored this important community asset and visual landmark in the Snoqualmie Valley.
Barn Again! - Historic Barn Preservation Program
This program successfully helped to preserve eighteen barns throughout the county. A few of the projects are still being finished, but all funding for the program has been committed. If additional funding becomes available in the future, we will restart the grant process.