How To Access Court Records
Court case information, documents and recorded hearings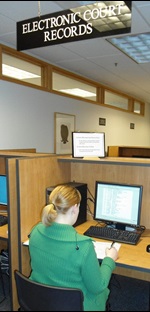 The Court Clerk is the custodian of the King County Superior Court case records and responsible for maintaining the records indefinitely, some are dated as old as 1854. Most court case records, including documents, are public records and are available for viewing at no cost in the Clerk's Office during business hours.
Sealed records access requires court approval and proof of identification.
Be sure to bring valid picture ID if you have a court order or legal authorization to access a sealed case or sealed document.
Court case records that are not open to public inspection are identified as sealed by court order or are protected by Court Rule, Revised Code of Washington (RCW) or Washington Administrative Code (WAC). Court Records are not subject to the Public Disclosure Act.
The official record for King County Superior Court cases initiated in the year 2000 and later is in electronic form. Most case files archived since 1996 are also maintained electronically. Paper filings, with some exceptions, are not retained.
King County Superior Court
Local General Rule 31 Access to Court Records
restricts online access to cases filed November 1, 2004 and forward, and limits the case types and documents available. However, many case documents are self-serve available online.
Learn more ...