Compost More. Waste Less. – Take the pledge
Take the pledge to Compost More. Waste Less. and find ways to put more food scraps and food-soiled paper in your yard waste bin, and keep food from going to waste in the first place!
Why pledge? 30% of what is in our garbage is food and food-soiled paper. By composting your food scraps and finding ways to prevent wasted food, you save valuable resources from the landfill.
Take the pledge to Compost More. Waste Less. and get a free toolkit:
10 free compostable bags to collect your food scraps and food-soiled paper
Booklet with do's and don'ts for composting (and recycling)
Fruit and vegetable storage guide
Recycling tote bag to help you get your recyclables out to the recycling bin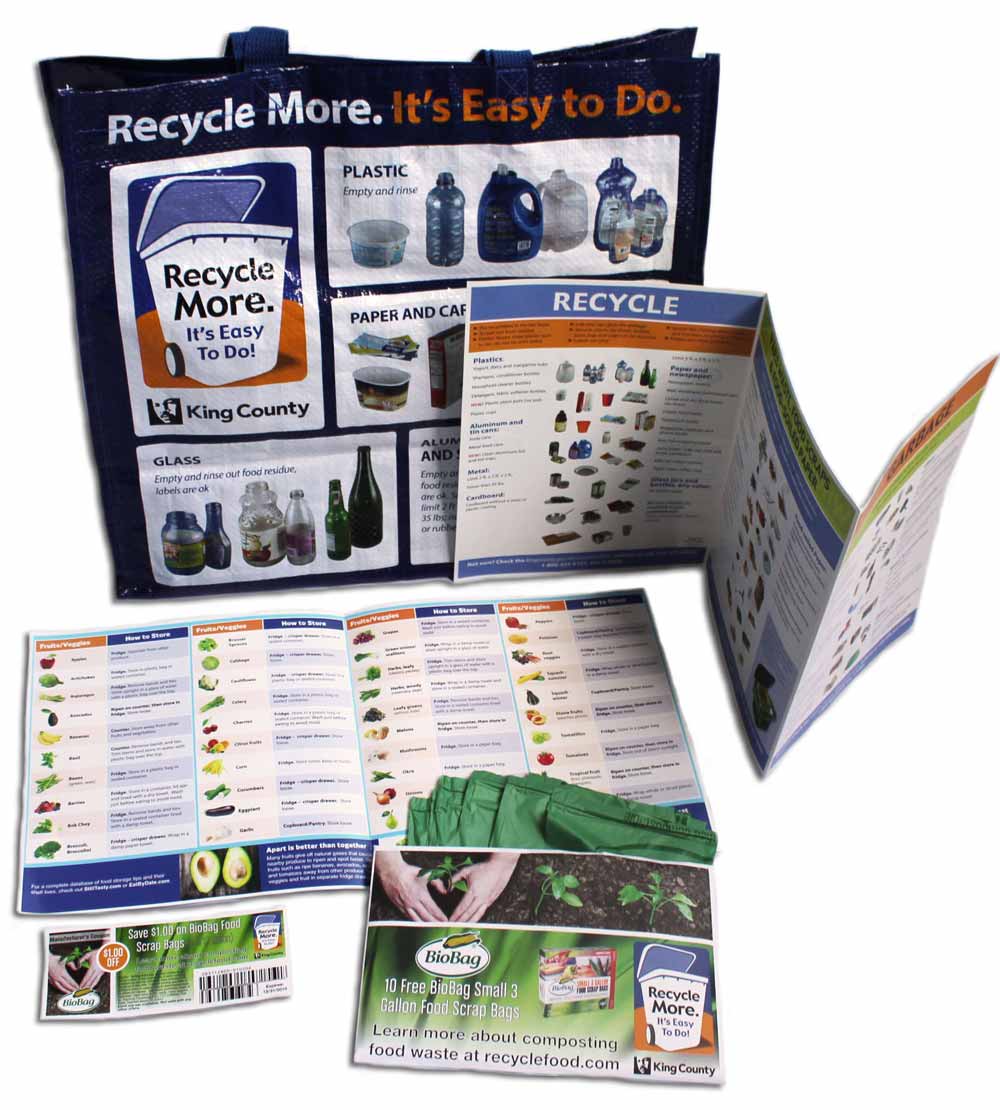 Pledge program currently on hold due to COVID-19
Due to COVID-19 impacts, the Compost More. Waste Less. pledge program offering free toolkits has been suspended. We apologize for any inconvenience and will update this website when we resume the pledge program. In the meantime, see the steps below for tips and resources to waste less.
Simple steps to help you waste less
Put food scraps and food-soiled paper in your yard waste cart. Food and yard waste makes up a third of what ends up in the landfill.



Sign up for curbside yard waste service if you don't already have it. Contact your garbage hauler for details.
Begin recycling with veggie and fruit trimmings or the leftovers that got lost in the back of the fridge.
Set up a kitchen collection container and make food scrap collection a part of your pre-meal prep and your after-meal clean-up routine.
Try these tips to make it clean and easy.
Put food-soiled paper such as pizza delivery boxes, dirty paper towels, napkins and uncoated* paper plates in your yard waste cart.

*Uncoated paper does not have a shiny surface.

Take a fresh look at how you shop for and prepare meals, and how you store your fruits and vegetables to keep them fresh.



Shop your fridge and cupboards first to avoid buying food you already have on hand.
Buy bulk grains, beans, and pastas to purchase only the quantities you need.
Learn where to store all fruits and vegetables to help them stay fresh longer. Download this handy Fruit and Vegetable Storage Guide

Download PDF

650 K.
Designate an "eat soon" area in your fridge by moving food that's likely to spoil soon to the front of a shelf. Print and attach this label

Download PDF

30 K to the shelf, on a shoebox or other container to corral food that needs to be eaten soon.
Befriend your freezer and visit it often. Freeze food such as bread, sliced fruit or meat that you know you won't be able to eat in time.

Like Recycle More on Facebook

external link

for daily tips and inspiration.