Capital Projects: 2019 Consultant and Contractor Forum
Water and Land Resources Division
This page hosts information for consultants and contractors interested in doing business with King County Water and Land Resources Division (WLRD). The forum provides information on upcoming contracts for capital projects in Floodplain Management, Ecological Restoration and Engineering Services and Stormwater Services. Capital projects in WLRD include flood protection projects such as levee repairs and setbacks, habitat restoration, and stormwater facility design and repair.
Please join us for the next King County Capital Projects forum Tuesday, July 21st from 1:00 - 3:00pm. The forum will be an online event.
To register visit our Eventbrite registration page.
Past Forums
Doing business with the county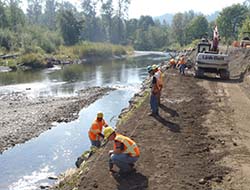 The Procurement & Payables (P&P) website is designed to assist users who do business with King County. The web site provides procurement and contract information for:
Construction
A&E and professional services
Technical services
Goods and services