Criminal defense
Providing high-quality, client-centered representaiton
Each year, the Department of Public Defense provides high-quality legal advocacy to thousands of clients facing criminal charges in different courts in King County. Our primary goal is made clear in DPD's mission statement: DPD's attorneys work closely with other staff members – investigators, mitigation specialists, paralegals, and administrative assistants – "to promote justice and equity for our clients and advocate for their objectives, interests, and dignity."
DPD's criminal defense teams carry out this mission at a high level.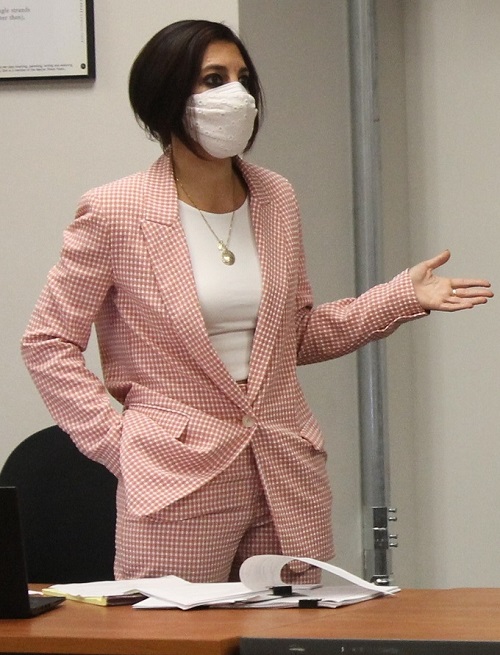 Attorney Leslie Somerstein argues a motion in King County Superior Court.
Attorneys partner with their clients to help them achieve their goals, ensuring the client is informed about their case throughout the duration of the representation. They endeavor to tell the client's story, rejecting the lawyer-client hierarchy and respecting the cultural factors that have shaped clients' lives. When possible, they work with community partners, connecting clients to critical community resources. Our attorneys engage in vigorous bail advocacy. They're encouraged to take cases to trial. They're supported by skilled supervisors, as well as access to expert services and a robust training program. Every step of the way, our attorneys work to advance their clients' interests, using strong advocacy, creative legal strategies, pre-trial motions, and more to secure the best possible outcome.
Public defense investigators also play a critical role as members of the defense team. They analyze crime scenes, interview witnesses, access police disciplinary records, and assist in the development of defense strategies. Mitigation specialists – trained social workers – coordinate appropriate services for clients and prepare comprehensive psychosocial histories that help to tell a fuller story about a person. They work with attorneys to address not only the criminal charges clients face but also the collateral consequences that can make criminal involvement so devastating – from deportation, to job loss, to housing loss. Paralegals research legal issues, review cases, organize evidence, draft pleadings and motions, and communicate with clients, family members and others. All of this work is supported by skilled administrative assistants who are also committed to client-centered representation.
Dismantling a racist and harmful system
DPD also works to address systemic issues, partnering with the community to develop litigation and advocacy strategies to dismantle a racist and harmful system and to make the traditional systems that remain as restorative as possible. The Director's Office pursues changes in criminal rules, files lawsuits and amicus briefs, advocates for legislation, and works with community partners to try to eliminate the harms and injustices we see.
We also work in tandem with our defense teams, frontline staff who see the injustices of the system every day. Sometimes, the policy team learns about needed changes from staff and develops a strategy for reform; other times, the Director's Office takes the lead on legislative or administrative changes that support our defense teams in their practice. This constant feedback loop has resulted in several changes that have helped to lessen the harm of criminal prosecution.
We partnered with frontline attorneys to end Seattle Municipal Court's use of off-the-record warrants – warrants issued without a hearing and without making case-specific findings.
We filed litigation to try to end King County Superior Court's practice of allowing the prosecutor to seek bail increases ex parte when filing felony charges, litigation that is ongoing.
We worked with partners to begin a victim compensation fund in Seattle Municipal Court, one of the first in the country.
We worked with partners to enact legislation lessening the harm of the criminal legal system.
We filed amicus briefs in several cases as part of our litigation strategy to effect change. For example, the State Supreme Court, in Washington v. Slater, reversed a conviction after it found that a single failure to appear (FTA) is not evidence of flight sufficient to sustain an inference of guilt.
Because of both legislative changes and appellate decisions, DPD is handling far more post-conviction cases than in the past, helping clients to get out of prison much sooner and addressing the harm of harshly long sentences.
DPD will continue its legislative and court-based advocacy to limit the reach of the criminal legal system and its impact on low-income individuals and people of color.