Vanpool
A better commute.
Restart Your Commute With Vanpool!
Metro Commuter Vans is your one-seat ride to restart your commute. Flexible options are available, including part-time, toggling work days and other physical distancing solutions.
Find out more
Cut your commute costs, breeze by traffic in the carpool lane, reduce drive-alone stress and help keep our air cleaner by joining a Metro Vanpool.
Join an existing group or start your own—five members gets you on the road! Everything is covered. Your monthly fare includes the van, gas, insurance, maintenance, roadside assistance, plus a guaranteed ride home.
More about Metro Vanpool
Commuters
Five or more people who share a similar commute; could be co-workers, friends, or neighbors.
Roles & fares
Each group has at least two volunteer drivers plus a bookkeeper to track mileage. ridership and fares. Fares are based on mileage, number of riders and size of van. On average, the monthly vanpool cost is similar to a monthly transit pass.
Logistics
Vans are kept at a driver's house and riders usually meet at a Park & Ride. Each group determines their own route, parking and operating rules.
Vanpool has all you'll need
Gas, insurance, maintenance, 24-hour roadside assistance and a guaranteed ride home are all included. Many employers even subsidize vanpool fares—ask your office manager or HR department.
Find a Metro Vanpool
Look for a Vanpool along your route
Enter complete home and work addresses below for the most accurate list results. Visit RideshareOnline.com to create and view custom trip lists with additional search filters, personal trip calendar, and available rewards.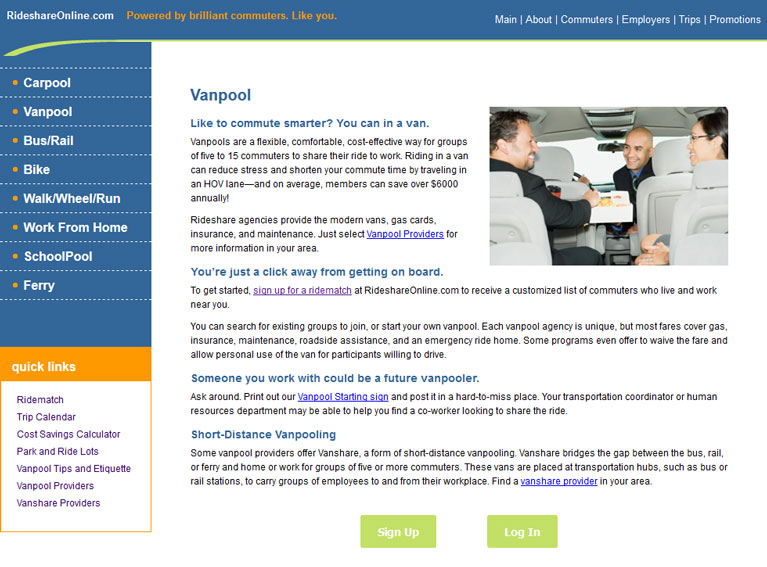 Create a profile
Go to RideshareOnline.com to create a profile and search for Vanpool groups. When you find a Vanpool match, contact the listed coordinator to confirm seat availability, route and schedule to see if it is good fit.
Start your own Vanpool
Recruit four or more members (at least two drivers and a bookkeeper), agree on group details (parking, route, schedule, etc), and we will follow up with next steps!
Connect with Rideshare
Local Calls: 206-625-4500
WA Relay: 711
Fax: 206-684-2166
Mailing Address:
Rideshare Operations
KSC-TR-0812
201 S Jackson St
Seattle, WA 98104-0770