West Seattle-Seattle Route
Winter schedule continues
Both routes of the King County Water Taxi remain in service on their winter schedule.
West Seattle-Seattle Route
Schedule
Weekdays only
Crossing time: about 10 minutes.
| Departs Pier 50 | Departs West Seattle |
| --- | --- |
| 5:55 AM | 6:15 AM |
| 6:30 AM | 6:50 AM |
| 7:05 AM | 7:25 AM |
| 7:40 AM | 8:00 AM |
| 8:15 AM | 8:35 AM |
| 8:50 AM | 9:10 AM |
| --- | --- |
| 3:25 PM | 3:45 PM |
| 4:05 PM | 4:25 PM |
| 4:45 PM | 5:05 PM |
| 5:25 PM | 5:45 PM |
| 6:05 PM | 6:25 PM |
| 6:45 PM | 7:05 PM |
Passengers must pay the following one-way fares as they board.
| Fare type | Cash or Ticket | ORCA |
| --- | --- | --- |
| Adult | $5.75 | $5.00 |
| ORCA LIFT | — | $3.75 |
| Senior (65+)/Disabled | $2.50* | $2.50* |
| Youth (6-18) | $5.75 | $3.75** |
| Children (5 and under) | Free | Free |
| Bicycles | No extra charge | No extra charge |
*With a Regional Reduced Fare Permit (King County Metro Transit website)
**ORCA Youth Card fare
Cash. Pay your cash fare (exact amount only) when entering the vessel.
ORCA card. Tap your ORCA card on the card reader held by a crew member. Card must be loaded with a PugetPass or E-purse value.
Ticket. Purchase an adult-fare ticket from a vending machine at a Water Taxi terminal before boarding. Put your ticket in the fare box as you board. Credit or debit cards may be used to buy tickets.
Passport. Tap your ORCA Passport card on the card reader held by a crew member. Passport covers the full fare on the King County Water Taxi. We now also accept the U-PASS.
Checks are NOT accepted
Learn more about paying your fare on our Rider info page
The King County Water Taxi does not accept reservations. The advance purchase of any fare media, including tickets and passes, does not guarantee a seat on a particular sailing.
The Water Taxi docks in Seacrest Park in West Seattle. The park is easy to reach by bus, neighborhood shuttles, and waterfront pathways for walkers and bicyclists. Visitors to West Seattle will find easy access to waterfront trails, Alki beach, fishing piers, restaurants, and shops along California Avenue.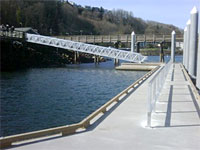 Address
1660 Harbor Avenue SW
Seattle, WA 98126
Amenities
Ticket vending machines
Restrooms
Boat launch
Fishing pier
Scuba diving launch
Parking
A very limited amount of short-term parking is available at Seacrest Park . On-street parking is available along Harbor Avenue SW.
Both the Vashon Island-Downtown Seattle route and the West Seattle-Downtown Seattle route dock at the brand new terminal at Pier 50 on the downtown Seattle waterfront. See map
Address
801 Alaskan Way (entrance at the foot of Yesler Way)
Seattle, WA 98104
Amenities
The King County Water Taxi opened its brand new multimodal terminal at Pier 50 along the downtown Seattle waterfront, on August 12th. This new terminal has a capacity to hold 500 passengers under cover and out of the weather. An elevated walkway provides safe access to restrooms located in the new Washington State Ferry terminal and to the elevated walkway to the intersection of 1st Ave and Marion St. allowing passengers to walk from downtown Seattle to the passenger only ferry terminal without having to cross city streets.
Parking
There is no parking available at Pier 50. There are paid lots available in the area, and metered parking on nearby streets. The Pier 50 terminal connects with several bus routes and the Link Light rail. Please use Metro's trip planner to see options.
West Seattle
| Metro route | Days of the week | Service |
| --- | --- | --- |
| 773 | Weekday, Saturday, Sunday | West Seattle Junction |
| 775 | Weekday, Saturday, Sunday | Admiral District, Alki Avenue SW |
| 37 | Weekdays only | Downtown Seattle (AM), Seacrest Park (PM) |
Downtown Seattle
*Pier 52 is just north of Colman Dock on the Seattle waterfront, and is within a quarter-mile of dozens of additional transit connections.
Look up transit connections and route schedules on Metro Online.
The King County Water Taxi's newest vessel, the MV Doc Maynard, is one of two new water taxis built with grant money from the Federal Transit Administration. The grant covered 80 percent of the cost of the two vessels.
The new boats can carry 278 passengers, and they have increased bicycle storage capacity, wider doors for faster boarding, and low-emission engines.
After a public vote, the vessel was named for one of Seattle's early pioneers, David Swinson "Doc" Maynard, who helped shape the Seattle we know today and advocated for naming the city after Chief Seattle.
About the Doc Maynard
Length: 104 ft.
Capacity: 278 passengers
Crew: 1 captain, 2 crew members
Service speed: 28 knots
Builder: All American Marine
Construction began: July 2014
Vessel delivered: September 2015
Cost to build: $6.25 million
The Spirit of Kingston is a foil-assisted catamaran that holds 149 passengers, 16 bicycles, and a crew of three. With a cruising speed of 28 knots, she crosses between West Seattle and downtown Seattle in about 10 minutes.
Inside, the Spirit of Kingston has a combination of theater-style seats, bench seats with tables, and facing seats on two interior decks. She also has one interior accessible restroom, two exterior restrooms on the rear of the first deck, and outdoor seating on the rear of the upper deck.
The Spirit of Kingston has four 750-horsepower propulsion engines that meet Tier 3 pollution standards. The vessel is also equipped with two radar systems, a GPS plotter, a depth sounder, a wired remote steering and propulsion controller with backup, and an AIS transponder. She is inspected annually by the U.S. Coast Guard.
The King County Ferry District acquired the eight-year-old vessel at no capital cost through an agreement with the Federal Transit Administration for the West Seattle/Downtown Seattle route.
Specifications
Length: 72 ft.
Beam: 25.6 ft.
Draft (deepest): 3 ft.
Weight: 70 tons
Capacity
Biodiesel fuel: 1,400 gal.
Potable water: 150 gal.
Holding tank (sewage): 150 gal.
Fuel consumption
At cruising speed, the Spirit of Kingston uses about 100 gallons of fuel per hour.