Vashon Island to Seattle
Are you craving city or island life? Both can be yours with a Water Taxi ride between Seattle and Vashon in around 22 minutes.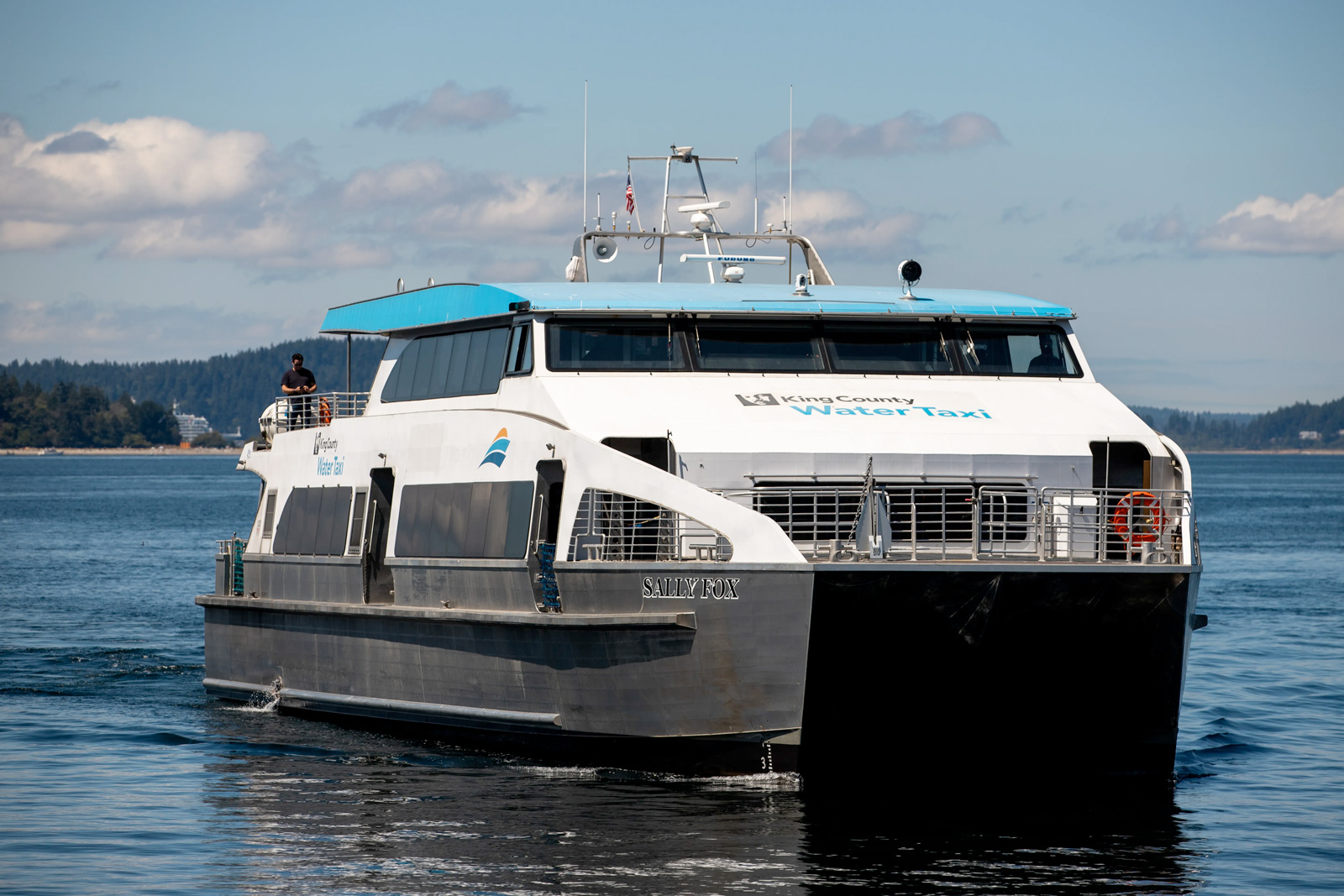 Weekdays only
Crossing time is approximately 22 minutes
| Departs Pier 50 | Departs Vashon |
| --- | --- |
| 5:30 am | 6:10 am |
| 6:38 am | 7:10 am |
| 7:40 am | 8:15 am |
| 4:30 pm | 4:58 pm |
| 5:30 pm | 5:58 pm |
| 6:30 pm | 6:58 pm |
| Fare type | Cash or Ticket | ORCA |
| --- | --- | --- |
| Adult (19 to 64 years) | $6.75 | $5.75 |
| ORCA LIFT | — | $4.50 |
| Senior (65+ years) or Disabled | $3.00* | $3.00* |
| Youth (0 to 18 years) | Free | Free |
| Bicycles & pets | No extra charge | No extra charge |
* With a Regional Reduced Fare Permit
Vashon Island Terminal
The King County Water Taxi docks at the Vashon Ferry Terminal, owned and operated by Washington State Ferries.
Parking
Free parking is available about a block away and uphill from the terminal.
Amenities
Ticket vending machines
Restrooms
Terminal building:

Indoor waiting area
Vending machines with drinks and snacks

On shore, near base of dock:
Downtown Seattle Terminal
The terminal is located at Pier 50 on the downtown Seattle waterfront.
Parking
There is no parking available at Pier 50. There are paid lots available in the area and metered parking on nearby streets. The Pier 50 terminal connects with several bus routes and Link Light rail. Please use Metro's Trip Planner to see options.
Amenities
The King County Water Taxi terminal at Pier 50 can hold up to 500 passengers under cover and out of the weather.
Elevated walkways provide safe access to restrooms located in the Washington State Ferry terminal from the intersection of 1st Avenue and Marion Street Passengers can walk from downtown Seattle to the passenger-only ferry terminal without having to cross on busy city streets.
ORCA card vending machine—purchase and reload money on your card before you board.
Transit Connections
Pier 50 is just south of Colman Dock on the Seattle waterfront, within a quarter-mile of dozens of additional transit connections.
MV

Motor Vessel

Sally Fox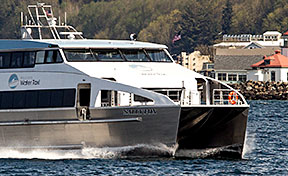 The first of the King County Water Taxi's two new boats, the Sally Fox, was dedicated in a ceremony on March 28, 2015, by County Executive Dow Constantine, County Council member Joe McDermott and other local figures.
After a public vote, the vessel was named for longtime Vashon resident Sally Willinger Fox, who was a passionate advocate for the preservation of passenger-only ferry service between Vashon Island and downtown Seattle. According to a plaque on the vessel that honors Fox, she "understood that passenger-only service enhances Islanders' family lives, protects the environment, reduces congestion and contributes to the health, vibrancy and fun of Vashon and Maury Islands."