Judge Haydee Vargas - Superior Court
How to contact a King County Superior Court judge and get ready for your trial or motion.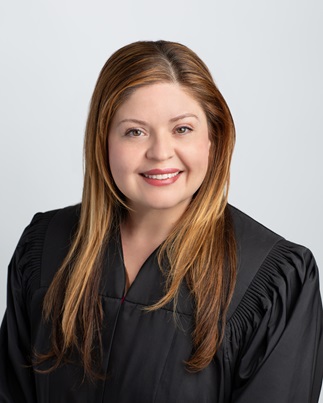 Courtroom Number: 3A
Bailiff: Kassie Smith
Department: 12
Assignment: Unified Family Court
Biography
Judge Haydee Vargas joined the King County Superior Court bench on March 21, 2022. She was appointed to fill the vacancy in Department 12, previously held by Judge Dean Lum, who retired.
Judge Vargas is a native Spanish speaker and is bilingual in Spanish and English. She grew up in Eastern Washington and was the first in her immediate family to attend college and the first in her family to obtain a graduate degree. She graduated from Seattle University with a Bachelor of Arts in History and from the Seattle University School of Law.
After law school, Judge Vargas practiced in immigration law, but transitioned to public service in 2004. Following that transition, she remained a dedicated and passionate Public Defender for over 18 years. She practiced in many courts throughout King County, including King County Superior Court in adult felonies and in the dependency/child welfare system. She also has significant experience representing kids and families involved in the At-Risk Youth/CHINS/and Truancy system. In 2017, Judge Vargas was promoted to the role of supervising attorney, where she was responsible for leading a team of lawyers in various practice areas, including District Court, Contempt of court, and BECCAs. In 2020, she became the Managing Attorney of the Associated Counsel for the Accused Division of the King County Department of Public Defense, and in that role was responsible for managing over 110 employees, including attorneys, supervisors, investigators, social workers, paralegals, and legal assistants.
In her role as a judge, she remains committed to public service and serving the King County community at large.
Requests
Unified Family Court Litigants
Judge Vargas is currently presiding over a caseload in Unified Family Court. Pro se litigants can avail themselves of the services provided through the Family Law Information Center. You may also learn more on Family Law Instructions. Parties, whether represented by counsel or pro se, are expected to follow the King County Local Family Law Rules.
Non-dispositive motions
Parties must comply with all the requirements of KCLR 7 when setting motions without oral argument. All non-dispositive motions will be considered by the Court without oral argument unless a party requests oral argument and the Court deems oral argument to be necessary. If you wish to request oral argument, please so indicate on the front page of your motion or opposition. Judge Holloway will consider the request when he reviews the motion on the date noted for hearing without oral argument. If at that time the Court decides to hear oral argument, the bailiff will contact the parties regarding scheduling. If the Court does not grant oral argument, you will receive a courtesy copy of the Court's order on the non-dispositive motion once the court enters a ruling.
Motions with Oral Argument and Hearing Requests
Review the Local Family Law Rules about where your motion with oral argument should be noted before contacting this court.
If you are representing yourself, you can always contact the Family Law Facilitators to get assistance with filing appropriate motions.
Once you have confirmed this is the appropriate place to note your motion, you must request hearing dates from the bailiff via email. Do not note your motion until you have received an email confirming that your hearing has been scheduled. Judge Vargas requires that you must also file and provide a working copy of your Note for Motion and Proof of Service within 48 hours after confirming a hearing date.
Any email request for a motion with oral argument hearing must include the following:
Case name and cause number
Names, phone numbers, and email addresses of all counsel or pro se party, if known
Type of hearing and date(s) requested
The following policies and procedures have been implemented by this Court to ensure access to the motions with oral argument calendar for all cases. The Court enforces them strictly as to all parties:
Each motion is allotted 30 minutes for argument and ruling. Any additional (separately-briefed) motion must also be scheduled with the Court. You may not include those as part of your response to a motion.
All working copies of the parties' briefs and accompanying documents must be submitted through either e-working copies or as hard copy working copies via the Judges' mailroom at the Clark Children and Family Justice Center.
All parties must provide any proposed orders to the court in MS Word format at least 1 day prior to your scheduled hearing.
As we have hundreds of cases on our caseload competing for limited motion availability, If the moving party elects for any reason not to proceed with the motion, that party shall notify the court to strike the hearing immediately, per KCLCR 7(b)(4)(H).
Examples of types of UFC motions that are typically granted oral argument are motions for revisions, UCCCJEA motions, motions for temporary orders to restrain or authorize relocation of a child, uncontested final decrees of invalidity, motions for summary judgment, motions to vacate an order of default or to vacate final orders entered at trial.
No Deliveries Directly to the Courtroom
Unless arrangements have been made directly with Judge Vargas's bailiff, no deliveries are to be made directly to the courtroom. All deliveries should be made to the judges' mailroom. Our mailing address is above.
Working copies should have the judge's name and the date and time of the hearing in the upper right hand corner of the first page of the motion. Please provide only copies of the cases that you are substantially relying on.
Hearing/Trial Information
If your case is assigned to Judge Vargas, there is the possibility that your case could be assigned to another judge at the time of trial. The assignment will generally take place on Thursday afternoon prior to trial. You are still required to comply with all court rules regarding pretrial submissions and deadlines. All papers submitted will be provided to the trial judge at the time of assignment by Judge Vargas's bailiff. To determine what judge you have been assigned to for trial, please check the Civil Standby Calendar. It will be updated on Thursday afternoon prior to trial and is continuously updated (as needed) at other times.
Judge Vargas requires all counsel and parties to be prepared at the end of each day to disclose all witnesses that party is intending to call the following day in trial.