Vehicle weight restrictions for bridges in unincorporated King County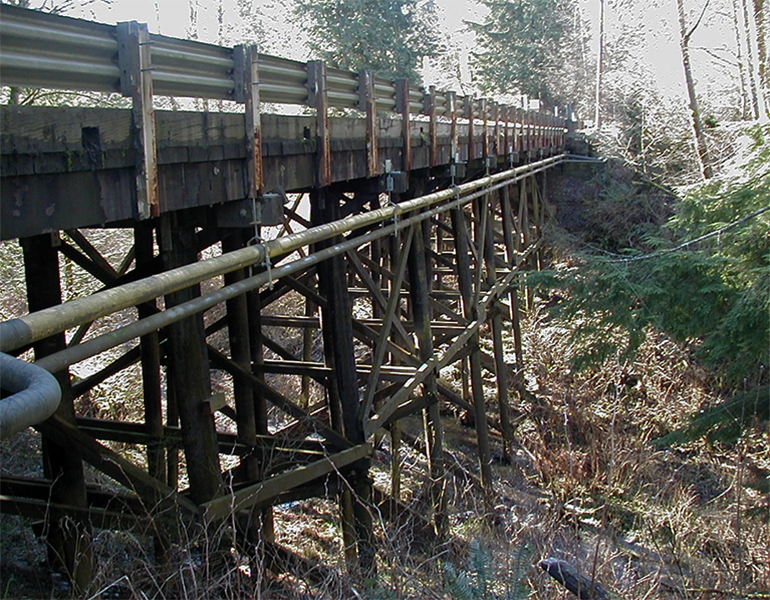 Example of a weight restricted bridge. The Ames Lake Trestle Bridge was built nearly 100 years ago and was originally designed with narrow lanes for much smaller vehicles compared with what we see on the road today. The bridge has a posted weight restriction for specific large trucks and specialized hauling vehicles. A project to replace Ames Lake Trestle Bridge is anticipated to begin in spring 2024.
Overview
This page provides the latest updates on bridges with weight restrictions and links to complete lists of bridges with vehicle weight, height, speed and other restrictions. Below are frequently-asked questions, the latest list of load limited bridges, and links to pertinent permit applications and webpages.
List of bridges with vehicle weight restrictions
Frequently asked questions
The Federal Highway Administration (FHWA) developed new calculations for determining the weight that a bridge can safely carry following a bridge collapse in 2017. All state and local governments evaluated publicly owned vehicle bridges using these new criteria and determined whether additional vehicle weight restrictions must be placed on bridges.
Key components of new method:
Added requirement to rate bridge's ability to carry four additional types of "special haul vehicles." These are newly authorized vehicles on roadways that can have heavier loads.

Added requirement to evaluate and rate the gusset plates and connections on bridges with structural steel members.
The county already has weight load limits on 10 bridges. List of restricted bridges PDF 573KB
All vehicle bridges managed by the county must be reviewed by the year 2022.
Yes. There are approximately 600,000 bridges nationwide that must be reviewed under this new federal requirement. About twenty-five percent of these bridges are categorized as deficient: either structurally deficient or functionally obsolete.
Bridges are considered structurally deficient if they have been restricted to light vehicles, closed to traffic or require rehabilitation. Structurally deficient means there are elements of the bridge that need to be monitored and/or repaired. The fact that a bridge is "structurally deficient" does not imply that it is likely to collapse or that it is unsafe. It means the bridge must be monitored, inspected and maintained.

A functionally obsolete bridge is one that was built to standards that are not used today. These bridges are not automatically rated as structurally deficient, nor are they inherently unsafe. Functionally obsolete bridges are those that do not have adequate lane widths, shoulder widths, or vertical clearances to serve current traffic demand, or those that may be occasionally flooded.
Given that many of these bridges are aging and were designed when there was less traffic and smaller, less heavy vehicles, it is expected that a significant number of bridges nationally will require new weight load restrictions.
The county has contacted other jurisdictions throughout the state and has confirmed that they are also adding or anticipate adding vehicle weight restrictions to their bridge inventory as a result of the new federal requirements.
There are currently no plans to close any of the county's bridges due to these new calculations, and we do not expect any closures, although we must complete all evaluations to be certain.
The load restrictions do not affect pedestrians, bicycles, cars, and typical passenger vehicles. List of restricted bridges PDF 573KB
There will be no change to speed limits.
The county had an active seismic upgrade program for bridges from 1992 to 2006. Most of the improvements that could be done to strengthen older bridges was done at that time. However, engineers will evaluate critical bridges that may need weight restrictions to determine if additional strengthening could be performed.
Truck companies and agencies can request the county to review specific delivery trucks for an over legal load moving permit for deliveries to dead end or otherwise inaccessible areas. More about overlegal load permits.
Many vehicles like school buses, fire engines and ambulances are still allowed depending on their weight and the loads they carry. The county is working with each fire district to make sure that fire vehicles can reach destinations. Truck companies and agencies can email the county at permits.roads@kingcounty.gov with questions and requests about specific bridges. Inquiries should include information about truck weights, including the weight of any loads, and information on how the vehicle distributes the weight (spacing between each axles and loads on each axle). If the truck, fully loaded, exceed legal loads or posted load signs, companies or agencies can apply for "over legal load" permits. More about overlegal load permits.
Where possible, the county will attempt to contact key companies and agencies in advance of new restrictions. Advanced warning signs and turn around signs will be posted on roadways to inform truck drivers that they are approaching a weight restricted bridge. Maps will be posted on this webpage.