Lake Geneva
King County, Washington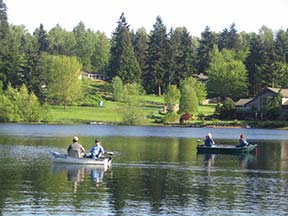 Lake Geneva is situated in the suburbs of South King County between Federal Way and Auburn. A public park is located at its northeastern shore while the rest of the lakeshore is surrounded by woods,private homes and docks. The park has trees and a wetland area with wildlife, a large grassy field and a boat launch (no gas engines), picnic areas/shelter, and children's play area. The lake is stocked with rainbow trout and also has largemouth bass.
Lake Geneva Lake Management District (LMD)
The Lake Geneva LMD is a special-purpose district tasked to protect water quality and control flooding along the lake shore.
The Lake Geneva Management District (LMD) is administered by the King County Water and Land Resources Division with assistance from an Advisory Board. The LMD Board meets twice per year to discuss current and ongoing activities in the District. The primary goals of the District are to:
Preserve lake water quality
Preserve public health status
Prevent future invasive aquatic plant infestations
Manage current invasive aquatic plant infestations
Manage aquatic debris
Educate and involve the Lake Geneva community
Manage the LMD
To be added to the Lake Geneva Management District email distribution list please contact Chris Knutson at chris.knutson@kingcounty.gov.
If you are interested in serving a term on the board please complete the King County Boards and Commissions Application (rich text format) and return to chris.knutson@kingcounty.gov or mail to:
Chris Knutson
201 S Jackson St Suite #600
Seattle, WA 98104
Lake Geneva Management District Meetings
February 15, 2023 12:00-1:30 pm
For questions about lakes in King County, please contact lakes@kingcounty.gov or call the Water and Land Resources Division front desk at 206-477-4800.