Mystery Fish #1...
Are SOCKEYE!
Great work if you guessed the correct answer!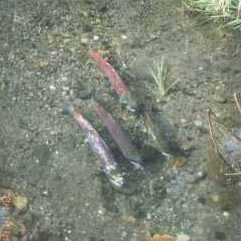 Even though these fish look different from each other, you can identify them as sockeye by their red body color and olive green heads. They could easily be confused with coho, so here's what to look for to determine if they are coho or sockeye. Coho often have darker, spotted backs with redder sides; the fish in this photo are mostly red all over and lacked spots. They also lack the red splotch of color on their cheeks that is characteristic of coho; instead, their heads are completely olive green. If you guessed that these fish were sockeye, give yourself a pat on the back!
Back to the mystery fish page!
This program is conducted in cooperation with the King County Water and Land Resources Division, Bellevue Stream Team, Redmond Stream Team, and the cities of Seattle, Bothell, Kirkland, Renton, Woodinville, and the Vashon-Maury Island Land Trust, with support from the King Conservation District.