Mystery Fish #2...
Are CHUM!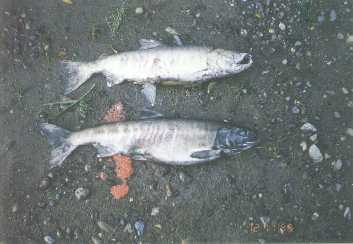 While watching for salmon, many times you will identify carcasses in the stream or on the bank. You can identify these chum carcasses by the vertical markings on the sides of their bodies. The body color alternates and looks kind of streaky or "mottled". Also, you can tell these fish aren't sockeye or coho because they lack red on their sides. They are also too large in size to be one of these other salmon species. These fish are dark like a Chinook, but the streaky; the mottled markings really give away their identity.
The other interesting thing about this photo is the sex of the fish. The larger fish on the bottom of the photo is a female; her salmon-colored eggs are present behind her. The slightly smaller fish on the top of the photo is a male; notice his hooked snout and the light-colored milt (his fertilizer) beneath his body. Sometimes it is really hard to sex the fish while watching, and one actually has to open the carcass to determine for certainty whether the fish is a male or a female. Good work!
Back to the mystery fish page!
This program is conducted in cooperation with the King County Water and Land Resources Division, Bellevue Stream Team, Redmond Stream Team, and the cities of Seattle, Bothell, Kirkland, Renton, Woodinville, and the Vashon-Maury Island Land Trust, with support from the King Conservation District.