Mystery Fish #3...
Are SOCKEYE!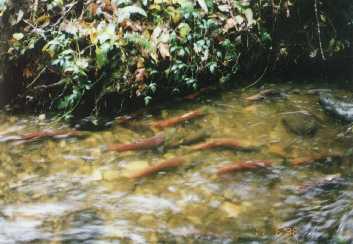 These sockeye are pretty hard to see, which is exactly what you'll find when you're out in the field. Even though it's a blurry shot, you can still identify them by their red body color and dark greenish heads. They don't have dark backs, large noticeable spots, or pink cheeks like coho. Good job! Now you're ready to do some "real" salmon watching at a local stream!
Back to the mystery fish page!
This program is conducted in cooperation with the King County Water and Land Resources Division, Bellevue Stream Team, Redmond Stream Team, and the cities of Seattle, Bothell, Kirkland, Renton, Woodinville, and the Vashon-Maury Island Land Trust, with support from the King Conservation District.