The Dirt: Calendar of hands-on volunteer opportunities
The planting window is closing for 2018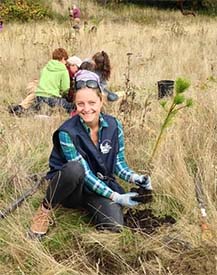 Planting season ends when March comes to a close, beginning again in October. Please join King County in building healthy forests – both in small neighborhood parks as well as in our open space and natural areas. There are also trails to be maintained or constructed. All volunteer projects help improve and maintain the awesome parks, trails and natural areas across King County! Check out the calendar below for upcoming volunteer events over the next five weeks.
Related information
Related agencies
News and announcements
Join King County in building healthy forests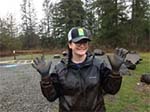 We're doing our part in King County's effort to plant 1 Million Trees by 2020 to reduce carbon pollution and prepare for impact of climate change, one of the actions outlined the 2015 Strategic Climate Action Plan.
Join in and help us reach this goal while also restoring habitat for fish and wildlife and enhancing recreation opportunities for all of us.
---
Calendar of events
Events are on Saturdays from 10 a.m. to 2 p.m. unless otherwise noted*
To join an event, please register with the volunteer coordinator listed after each event.
March 10
Marymoor Park (Redmond)


Join King County Parks and community volunteers in building a forest! This will be the last planting of the year in the park. This spot was formerly a field of Reed Canary Grass and we are transforming it into a healthy forest. This is a great project for children and volunteers of all ages.

Contact Lina Rose.

March 10
Sammamish River Trail (Woodinville)


Join King County Staff and our newest team of Parks and Trails Ambassadors (aka Sammamish Stewards) in restoration along the Sammamish River Regional Trail. Tasks will include blackberry removal from around plantings.

Contact Lina Rose.

March 24
Maury Island Marine Park (Maury Island, Vashon)


Join King County Parks and Whale Scouts as we work to make this incredible park and former gravel mine a healthy and beautiful place for people and animals to enjoy. We will be planting for the last time this season at the park to expand the forested areas.

Contact Lina Rose.

March 24
Log Cabin Natural Area (Issaquah)


Join King County Parks at this beautiful 118-acre site along Issaquah Creek, 3 miles south of the City of Issaquah. We will be planting and mulching native trees and shrubs to enhance habitat for fish and wildlife. Come join our tree planting efforts at this great location! This is a family friendly event.

Contact Tina Miller.

March 31
Walker Preserve (Normandy Park)
*Event is 9:30 a.m. – 12:30 p.m.


Opened in 2015, the Burien Miller Creek Trail is a community resource that needs your help. Help remove invasive plants and restore native trees & shrubs.

Contact Matt Goehring

March 31 and April 7
KC Parks Greenhouse & Nursery (Maple Valley)


Come join us at the King County Parks Geenhouse & Nursery to prepare a future forest! We will be potting up native trees and shrubs for the KC parks restoration program to be planted in the fall and winter at local restoration sites. Healthy & diverse forest provide habitat for wildlife, filter pollution, and also provide green spaces where people can connect with nature.

Contact Tina Miller.
Backcountry trail work parties with WTA
Give back to those trails that you love! Join King County Parks and the
Washington Trails Association
this winter and spring to rebuild and repair our backcountry trails. Tasks include retreading a trail, building a turnpike, or addressing drainage problems.
Note: These events require hiking to more remote work sites. Events are limited to 20 people, with typically 6-12 volunteers.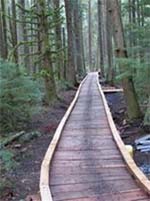 Work parties happen Tuesdays - Saturdays, 8:30 a.m. to 3 p.m.
Feb 27-Mar 3 Tolt-MacDonald Park (Carnation)
March 6 – March 10 Grand Ridge Park (Issaquah)
March 13 – March 17 Tolt-MacDonald Park (Carnation)
March 20 – March 24 Grand Ridge Park (Issaquah)
March 27 – March 31 Moss Lake Park (Carnation)
April 3 – April 7 Grand Ridge Park (Issaquah)
To register, sign up on Washington Trail Association's website or by calling 206-965-8561.
Restoration work parties every Saturday through March 31
SHADOW Lake Nature Preserve between Renton and Maple Valley
Includes work on King County's Shadow Lake Natural Area
Questions? Please contact ali@shadowhabitat.org
Other volunteer opportunities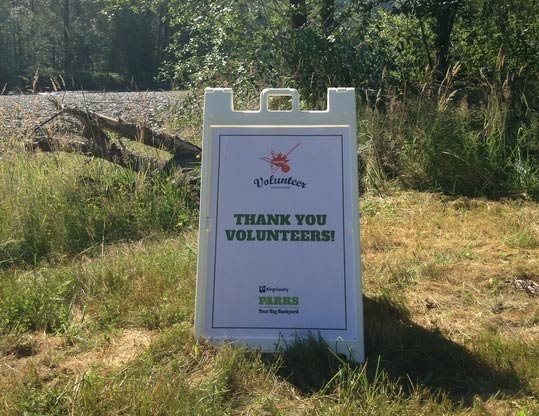 For more information about volunteering in King County, please contact Laurie Clinton, Volunteer Coordinator, King County Parks and Recreation Division.