Sediment management
Remediating and rehabilitating the region's waterways
In the 1950s, wastewater flowed into Lake Washington, Puget Sound, and many rivers and smaller lakes without enough treatment, fouling water and beaches.
In those days, less than 50 percent of all sewage throughout the Seattle-King County region got any treatment. Sixty outfalls discharged untreated or partially treated combined sewer wastewater into the Duwamish Waterway, Lake Washington, Elliott Bay and Puget Sound.
Treatment and prevention programs reduced pollution going into the waterbodies
The sewer outfalls built early in Seattle's history are now intercepted and treated at one of the regional treatment plants. Since the 1960s, the county's Industrial Waste Program and Combined Sewer Overflow (CSO) Control Program have dramatically reduced the amount of pollutants that are discharged to Elliott Bay, Lake Washington, and the Duwamish River through CSOs during large rainfall events that can overwhelm the combined sewer system. Despite that achievement, however, historical, persistent chemical contaminants in sediment continue to pose a risk to aquatic life, wildlife and human health at some locations. Some of those areas are contaminated with a variety of heavy metals (lead, copper, zinc), phthalates, polychlorinated biphenyls (PCBs), and polycyclic aromatic hydrocarbons (PAHs).
Addressing historical pollutants in sediment
King County's Wastewater Treatment Division is addressing sediment contamination near County CSO outfalls in Seattle through a Sediment Management Plan. The plan was developed in the late 1990s and updated in 2018 to reflect data from more recent studies. The County is investing tens of millions of dollars in cleaning up these contaminated areas.
Read more about the history of sediment cleanup.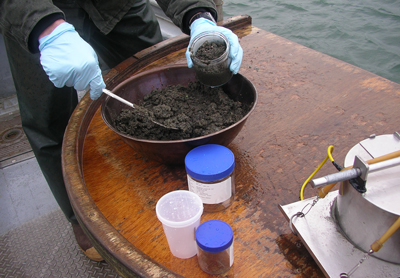 Core sample being prepared for lab analysis