Lower Duwamish Waterway Superfund Cleanup
The Lower Duwamish Superfund cleanup will enhance the health of the Lower Duwamish Waterway for tribes and community members, support a more thriving economy, and provide a healthier habitat for fish and wildlife.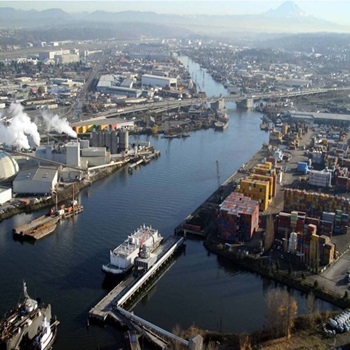 The Lower Duwamish Waterway (LDW) represents the last five miles of the Duwamish River. Historic activities such as wartime manufacturing, shipping activities and the disposal of raw sewage left the waterway polluted by contaminants including PCBs and phthalates. Now, stringent environmental laws no longer permit industries to discharge process water directly into the river. The biggest source of pollution in our waterways today comes from stormwater runoff from streets, parking lots, homes and commercial/industrial businesses.

In 2001, the U.S. Environmental Protection Agency (EPA) used the federal Superfund law (also known as Comprehensive Environmental Response, Compensation, and Liability Act, CERCLA ) to begin its own cleanup efforts and liability assignments in the Lower Duwamish. The Washington State Department of Ecology is also involved, using its authority under the Model Toxics Control Act.