Forestry help for landowners
On-site Technical Assistance
King County foresters provide free assistance to forestland property owners and others engaged in forest management or protection. Upon request, staff foresters will visit private properties to provide technical advice, assist with development of Forest Stewardship Plans or provide guidance on how to best meet county and state land use regulations. Foresters can help landowners develop a vision for management of their forestlands, which may include improvement of the health of their forest, implementation of a forest management plan that is both ecologically sustainable and economically viable, improvement of wildlife habitat, and protection of water resources. Contact Wendy Sammarco for more information.
Forest Stewardship Coached Planning
Natural resource professionals from King County, the King Conservation District , WSU Extension and the Washington State Department of Natural Resources teach how to keep forestland healthy and productive, and attract more wildlife. By the end of the eight-week class, students will understand the basics of forest management and will have a great start on a forest stewardship plan, which can qualify landowners for property tax reductions and local or federal cost share assistance. For details, go to Forest Stewardship Coached Planning, visit the WSU Extension Forestry website or call 425-357-6017.
Firewise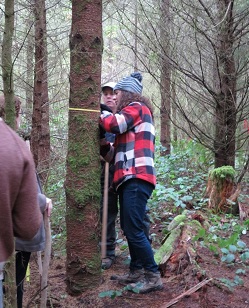 Is your home prepared for a wildfire? With a little training and some attention to conditions around your home, you can keep your home and family safer. King County foresters are available for free wildfire risk assessments. For help with Firewise community emergency response planning, visit our Wildfire Safety Planning webpage to learn more. The King Conservation District also provides Wildfire Resiliency Services to help homeowners and communities prepare for wildfire.
Forest Practices and King County Land Use Regulations
The Washington State Forest Practices Rules (Title 222 WAC) establish standards for forest practices such as timber harvest and road construction. The Washington Department of Natural Resources (DNR) summarizes these in the publication Forest Practices Illustrated. This book is designed to help forest owners, loggers and others better understand commonly encountered Forest Practice rules and operating techniques.
King County Department of Local Services Permitting Division also regulates some forest practices as well as administering zoning and land use regulations.
The King County Department of Natural Resources and Parks (DNRP) forestry team is available to help navigate the Washington Forest Practice rules and assist landowners in complying with county regulations. Contact Eric Beach, Regulatory and Permitting Specialist.
Other service providers
For questions about forestry services in King County, Washington, please contact Bill Loeber, King County Forestry Program.
Related information
Related agencies