Land Conservation Initiative and Equity
Open Space Equity Cabinet
The Open Space Equity Cabinet is composed of 21 community members. The Cabinet's purpose is to:
Develop report and recommendations to the County Executive and Council on how to further refine King County Code, processes, and funding sources to ensure more equity in providing access to greenspace and open space;


Advise the County on how to best engage communities and cities to add open space in underserved areas; and to be the region's "Voice" on the issue of open space equity.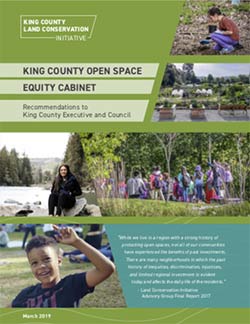 Read the Open Space Equity Cabinet's Report

Members of the King County Open Space Equity Cabinet
Lylianna Allala (Co-Chair)
De'Sean Quinn (Co-Chair)
Niesha Fort-Brooks (Global To Local)
Sili Savusa (White Center Community Development Association)
Tony To (HomeSight)
Paulina Lopez (Duwamish River Clean-Up Coalition)
Kim Powe (Puget Sound Sage)
Shamso Issak (Living Well Kent)
Hoda Abdullah (Living Well Kent)
Mozart Guerrier (21 Progress)
Leda Chahim
Lupita Torrez (Para Los Niños)
Patricia Palomino (Para Los Niños)
Azucena Muñoz (Para Los Niños)
Sandra Simarra (Para Los Niños)
Vero Huerta (Para Los Niños)
Gabriela Quintana
Ellany Kayce (Nakani Native Program)
Jeff Smith (United Indians of All Tribes)
Susan Balbas (Na'ha Illee fund)
Allan Kafley (ECOSS)
For more information about the Land Conservation Initiative and Equity, contact Heather Ramsay Ahndan, Project/Program Manager.