October 2022 Bridge Replacement:
The bridge crossing Ravensdale Creek in the western region of Black Diamond Open Space will be replaced and out of use for the entire month of October 2022. Starting November 1, the new bridge will be open and trail access will reopen for regular use.
For five intermittent days throughout the month of October, construction activities will close both parking lots off SR169 and the trails closest to the bridge. These closures are for safety. Please respect all trail closures and follow posted signs.
On days where the parking lot is closed, street parking is available at the electric transmission line corridor off Black Diamond-Ravensdale Road.
The new bridge meets forest service standards and is designed to last 50 or more years. It also will provide better views up and down the creek corridor due to a higher bridge deck elevation.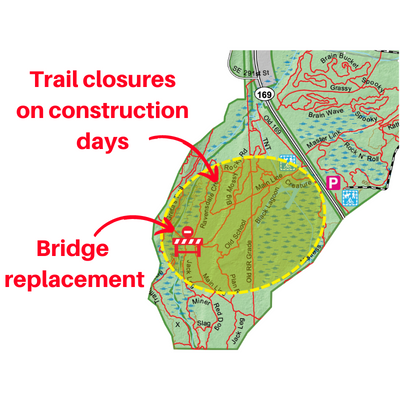 For questions and additional project information, call (206) 477-4527 or email parksinfo@kingcounty.gov.

About the Park:
The 1,240-acre forested Black Diamond Open Space (BDOS) is located two miles north of Black Diamond and six miles south of Maple Valley. This special park contains portions of a protected migratory corridor called the Wildlife Habitat Network. It also contains streams, peat bogs, and wetlands.
King County Parks is actively restoring the health of the forest with periodic stewardship activities such as invasive weed removal, thinnings, and plantings. Prior to public-ownership, portions of the forest in BDOS were clear-cut. King County Parks replanted the forest in 2014. During this lengthy transition, forests can sometimes look a little scruffy. Active forest stewardship increases resilience to droughts, pestilence, and wildfire and makes for better habitat and ecological diversity. BDOS is a Forest Stewardship Council® (license code FSC-C008225) certified working forest.
BDOS straddles two distinct watersheds. The Cedar River Watershed and the Green River Watershed. Rock Creek, a fish-bearing stream runs through the site which drains to Cedar River and out to Puget Sound. Ravensdale Creek also flows through the site, eventually draining to the Green River which eventually joins Duwamish River and into Elliott Bay. These waters are valuable for cutthroat trout, coho, sockeye, and chinook salmon. The presence of beavers and freshwater mussels are indicators of good water quality.
The largest and most publicly-used portion of BDOS includes 17 miles of trails built over many years for non-motorized uses.
Partners:
Evergreen Mountain Bike Alliance - Black Diamond Open Space
Northwest Natural Resource Group
Park Activities: dog walking, hiking, horse riding, mountain biking, nature observation, parking lot, potties, volunteer
Location: Two miles north of Black Diamond or six miles south of Maple Valley on SR-169/Maple Valley-Black Diamond Rd/3rd Ave.
Nearby Bus Stops: 143 and DART Route 907 on SR-169 and SE 280 St or Black Diamond-Ravensdale Rd SE.
Parking: There are two gravel parking lots off SR-169/Maple Valley-Black Diamond Rd SE/3rd Ave. The southern, main parking lot is on the east side of SR-169 and can accommodate cars, trucks, and horse trailers. The northern, smaller parking lot is on the west side of SR-169.
Trailheads: Trailheads are located in the parking lots.
Map:
Park History:

The area was heavily mined for coal before it was harvested for timber on three occasions. A summary of this history is available in the January 2018 Draft Forest Stewardship Plan for Black Diamond Open Space, Ravensdale Retreat Natural Area and Henry's Ridge Open Space.
Relevant Links:
Black Diamond Open Space updates: Click to subscribe to an email newsletter for updates about the park.
WSDOT to close Old Railroad Trail (future Green to Cedar Rivers trail South) to replace fish culvert
November 2017 Community Engagement Summary
June 2005 Black Diamond Area Open Space Protection Agreement area map
Black Diamond Area 2019 Stewardship Plan