We hope you can join us for a public Forestry Walk at Taylor Mountain, Saturday, April 22, 2023, 10 a.m.- 12 p.m. See details in "Taylor Mountain Forestry Walk" section below.
Alert: Seasonal Trail Closures, Oct 15 - April 15 each late fall/winter/early spring season.

The rainy season is upon us and that means closing some trails to prevent damage and protect the forest and salmon habitat.
---
Upcoming Summer 2023 Forestry Project
In summer 2023, tree harvesting will occur in two areas at Taylor Mountain. Deciduous trees like maple and alder will be removed, keeping evergreen trees and some pockets of deciduous trees intact. During winter 2024, approximately 50,000 mixed conifer trees will be planted. Removing many of these hardwoods and transitioning the site to diverse species of evergreens creates healthier forests in the long-term that also are more tolerant of warmer, drier weather brought on by climate change. This aligns with Taylor Mountain's working forest status to demonstrate ecologically-oriented forestry. Taylor Mountain's forest stewardship is certified by the Forest Stewardship Council (FSC).

Intermittent trail closures may occur for safety and for construction vehicles to access the sites. Alternate trail routes will be available during construction.
Harvesting Area 1 is a 61-acre area located between Holder Knob Trail and Road A. This area has majority bigleaf maple with some cottonwood and red alder. No trails cross the project area.

Harvesting Area 2 is a 60-acre area located between Carey Creek and Road K. This area also has a majority bigleaf maple with some cottonwood and red alder. Road I crosses the project area.
Taylor Mountain Forestry Walk
Saturday, April 22, 2023, 10 AM - 12 PM
Meet at Taylor Mountain parking lot
Join King County Forestry Expert Paul Fischer for a walk highlighting summer/fall 2023 tree-harvesting work at Taylor Mountain. He'll share how this project and greater forest stewardship plans for Taylor Mountain creates healthier forests that are more tolerant of warmer, drier weather brought on by climate change.
Event Logistics: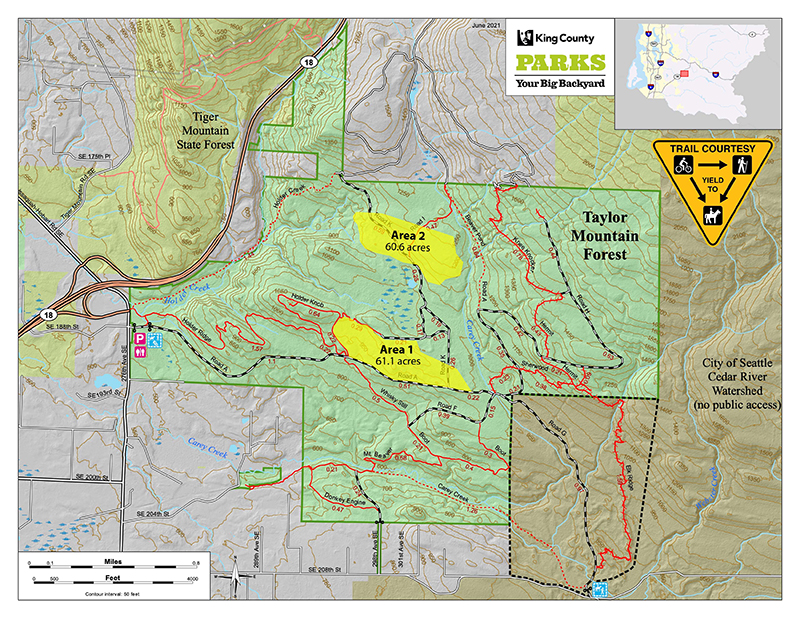 Project Background:

The objective of this project is to shift the forest composition from multi-stem maple and other hardwoods to a majority conifer mixed species forest. Taylor Mountain has several hundred acres of hardwood-dominated forest, the result of previous clearcutting and abandonment. While maples and hardwood-dominated forests are ecologically important, these areas are of declining quality, slowly transitioning to low-diversity shrub-dominated communities. At smaller scales, these habitats are important for wildlife. In Taylor Mountain's case, the large extent of these conditions will lead to low density forest of short-lived tree species that do not meet the County's climate and forest cover objectives. Taylor Mountain's Forest Stewardship Plan identified several forested areas as poorly suited to long-term climate conditions and prescribed these management actions. This work aligns with King County's Climate Action Plan and 30 Year Forest Plan.

Several forestry projects have taken place at Taylor Mountain since 2005, most recently in the fall of 2022. There will be additional harvests in the future in other areas of the park to improve forest health and biodiversity, and to showcase ecologically-oriented forest stewardship that also produces timber products.

All revenue from timber sales goes back into the restoration of the forest, such as invasive plant removal and tree planting.
---
April 11, 2023 Public Meeting
A virtual public meeting was held April 11, 2023, to discuss the upcoming tree harvesting, forest stewardship, and trail updates at Taylor Mountain.
We welcome any feedback or questions, please contact parksinfo@kingcounty.gov or (206) 477-4527.


---
About the Park:


Connecting the Cedar River Watershed to the Tiger Mountain State Forest, the 1,924-acre Taylor Mountain Forest rewards visitors with views of Mount Rainier, forested wetlands, and meadows of wildflowers. Taylor Mountain Forest is also a Forest Stewardship Council® (license code FSC-C008225) certified working forest demonstrating how environmentally sound forest management protects and restores ecological systems while still allowing for recreational opportunities.
Taylor Mountain Forest has two major tributaries of Issaquah Creek: Holder Creek and Carey Creek, which provide more than five miles of spawning and rearing-habitat for salmon.
Throughout the forest, there are nearly thirty miles of trails and gravel roads used primarily by horseback riders but are also shared with hikers and mountain bike riders. Some trails are closed, during the rainy season, between October 15 and April 15 to protect the trails, prevent erosion, and reduce the amount of sediment entering the streams.
To stay informed about Taylor Mountain Forest: Subscribe to our e-newsletter!

Partners:
Backcountry Horsemen of Washington, Tahoma Chapter
Northwest Natural Resource Group
Washington Trails Association- Taylor Mountain
Park Activities: walking, hiking, horseback riding, mountain biking, nature observation
If you would like to volunteer at Taylor Mountain Forest, click here
Location: Southeast of Tiger Mountain, south of I-90 and east of SR 18, between Hobart and North Bend.
Nearby Bus Stops: 143 & DART Route 907 at Renton Maple Valley Rd and Cedar Grove Rd
Parking: The parking area can accommodate twenty-five trucks and horse trailers, plus twenty-five standard vehicles, along with handicap parking that includes one spot for a horse trailer and truck.
Trailheads: The main trailhead is at SE 188 St and 276 Ave SE
Map:
Taylor Mountain Forest Mapa en español
Park History:
Abridged from the 2003 Taylor Mountain Forest Stewardship Plan: Taylor Mountain Forest was likely used by the Snoqualmie, Duwamish, and Muckleshoot tribes for fishing, hunting and gathering, and as a major transportation link from Lake Sammamish to the Cedar River and across the Cascades.
Government Land Survey notes from 1891 and 1892 describe the area as "…covered with heavy fir, hemlock, cedar and spruce timber of good quality… A very dense undergrowth throughout…" Also noted were numerous brooks, creeks, and "branch springs." More than sixty settlers homesteaded in the vicinity at this time, many clustered around nearby Walsh Lake.
Logging was extensive throughout the area since the late 1880s. Logging was first accomplished with oxen, horses, and steam donkeys. Construction of a railroad allowed for more intensive harvest. Eventually fifteen miles of standard-gauge rail passed through the forests and to the top of Tiger Mountain. Several sawmills operated in the area. The Sherwood mill, was located on upper Carey Creek in the 1930s, probably milling cedar bolts cut from the large cedar stumps left standing in wet areas after the initial harvest. A 1930s stump house, created inside a hollow cedar stump with a sheet metal roof and equipped with pots, pans and dishes on the table, was discovered on the property in 1969. The artifacts were subsequently removed.
There were many forest fires in the vicinity in the early 1900s. In 1910, a big fire started in Kerriston and, spreading to Taylor, Walsh Lake, and Hobart, which consumed the railroad trestles at Taylor and Sherwood. The community at Walsh Lake was destroyed and two trains were marooned. Many of the large stumps on Taylor Mountain Forest bear evidence of the fires.
Taylor Mountain Forest continued to be harvested throughout the 1940s. An aerial photo from 1944 shows the Holder Creek drainage recently logged and much of the Carey Creek drainage logged or maintained as open grazing land. The most recent logging operations began in the 1970s, when approximately 60 percent of the site was clear-cut.
---
Relevant Links:
Trail Improvement Virtual Info Session: April 7, 2021
2004 Taylor Mountain Public Use Plan