South Sammamish B Segment - Phase 2
NOTICE: - January 15, 2020 - Did you get an encroachment letter? If so read our FAQs.
Location: SE 33rd St to Inglewood Hill Rd. - approximately 3.6 miles
Redevelopment includes improvements to the former railroad bank between SE 33rd Street and Inglewood Hill Road. The project includes removal of the existing gravel trail and construction of approximately 3.6 miles of 12-foot-wide paved trail with gravel shoulders, concrete intersections, and improved sight lines. Other items of work include erosion control, grading, structural earth walls, soldier pile walls, fencing, stormwater conveyance system, signage, traffic control, trail amenity items, landscaping, wetland mitigation and construction of eight fish passable culverts.
Funding for this segment is provided by the voter-approved 2020-2025 Parks, Recreation, Trails, and Open Space Levy.
Have questions about upcoming design and construction activities? Watch these videos or read our general FAQs to learn more about planting in the trail corridor, sight triangles, trail staking and more.
Have questions about property rights in the East Lake Sammamish Rail Corridor? Read King County's general statement regarding property rights.
To view approved plan sets for the Shoreline Substantial Development Permit - Visit the City of Sammamish page.
---
Want updated construction information?
Visit the Project Information by Topic section to view the latest in design, outreach, technical reports and more. We'll keep all our ELST neighbors and stakeholders up to date as construction progresses.
New to the trail?
Visit the main trail page to read more about the trail's history, why the trail is being constructed, the amenities and connections it will bring to the surrounding neighborhoods and importance for the region. You can also watch a video describing the projects scope and timeline.
Be a part of the trails community!
The East Lake Sammamish Trail, much like all of our Regional Trails System trails, is a work in progress requiring constant management and upkeep. We always welcome constructive suggestion about trail maintenance, or safety from our users. Be sure to let us know if you see something on the trail that you think we can improve.
Sign up for ELST trail updates to get the news delivered to you!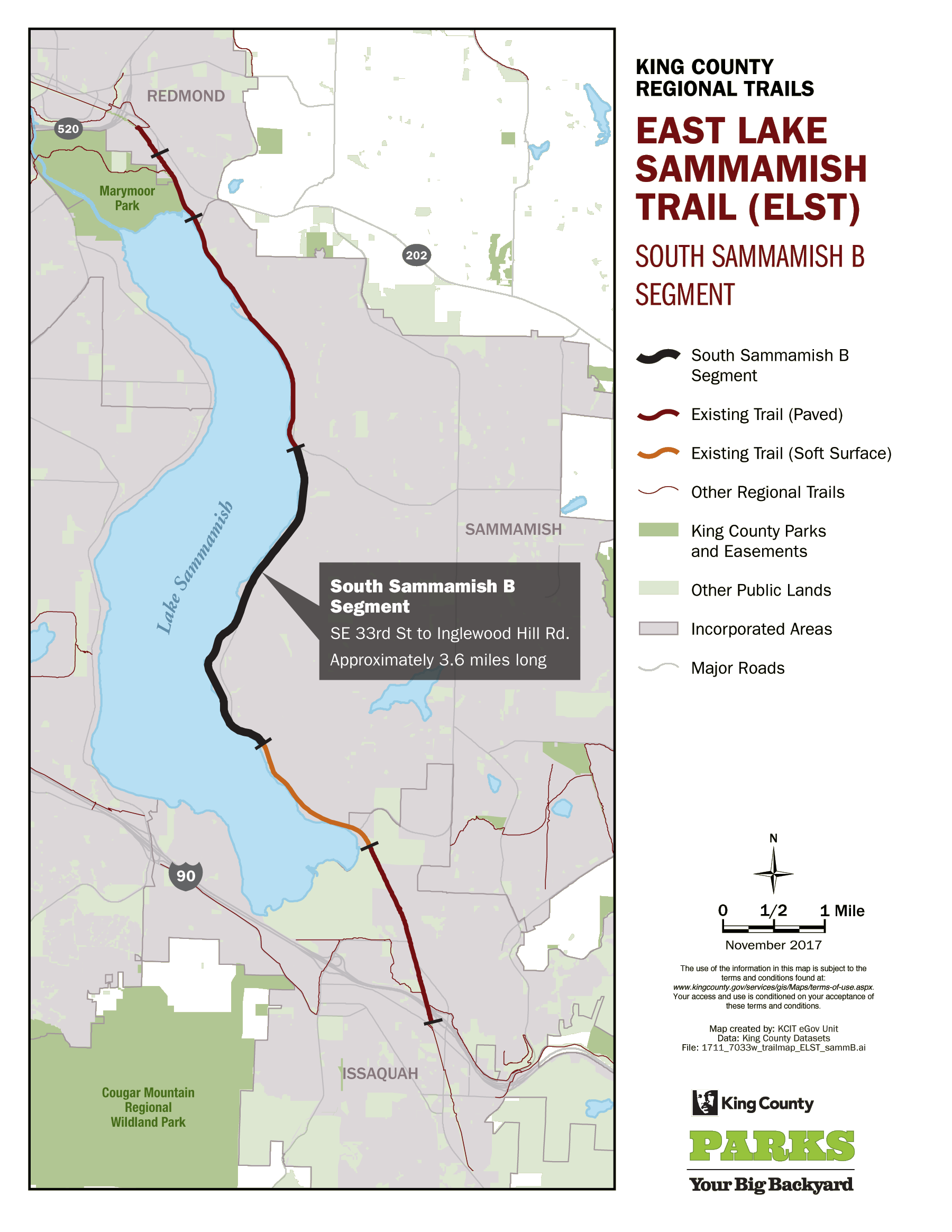 Questions? Comments?
Hotline: 1-888-668-4886
Email: ELST@kingcounty.gov