South Sammamish B Segment - Phase 2
NOTICE: - January 15, 2020 - Did you get an encroachment letter? If so read our FAQs.
Location: Driveway 10 (approximately 500-feet south of SE 8th Street), to Inglewood Hill Road, approximately 1.85 miles.


Project Update:


The ELST South Sammamish B Segment will be constructed in two phases, as two separate projects:
- Phase 1 – SE 33rd Street to Driveway 10 (STA 283+70 to Sta 375+50) – 1.65 miles. Construction began on July 19, 2021.
- Phase 2 - Driveway 10 to Inglewood Hill Road (STA 375+50 to 472+81) – 1.85 miles. Construction is anticipated to begin in spring 2022.


The City of Sammamish has approved the Shoreline Substantial Development Permits. Construction is anticipated to begin in early 2021. To view approved permits and plans visit the
City of Sammamish webpage
.
For additional questions, contact the project hotline: 1-888-668-4886 or project email at
ELST@kingcounty.gov
Project Description: Redevelopment of a 1.85-mile East Lake Sammamish Trail segment between Driveway 10 and Inglewood Hill Road. This trail segment will feature a 12-foot-wide paved surface with two-foot gravel shoulders on each side, providing the highest degree of accessibility to people of all ages and abilities.


When complete, the newly developed trail segment will include the following features:
18 new retaining walls to provide slope stability and reduce the trail footprint, resulting in less impact on environmentally sensitive areas and adjacent residents.
14 reconstructed intersections with improved sight lines and safety features like concrete warning bands, bollards, striping and consistent signage. Warning bands provide a visual and textural difference from the paved trail's surface and along with improved signage, indicate an intersection is 75-feet ahead.
6 new fish-passable culverts which improve water quality, enhance habitat, and increase access to spawning grounds for the Lake Sammamish Kokanee, a fish species of importance.
2 new rest stops for trail users to sit and enjoy views of Lake Sammamish and the surrounding area.
Approximately 900 new native trees and more than 11,000 shrubs providing erosion control, providing increased visual and aural screening of East Lake Sammamish Parkway, wildlife protection and habitat connectivity, and a continuous park like setting along the corridor.
Over 7,500 linear feet of new chain link fence, installed for safety above steep slopes.
Over 3,800 linear feet of split rail fence to protect and delineate critical natural areas.
Over 800 linear feet of guard rail to protect and separate the trail from vehicles.
Almost 1.8 acres of wetland, buffer, and shoreline mitigation area restored to increase fish and wildlife habitat and improve biological diversity. Features like habitat logs and brush piles as well as a variety of native plant species that will create multiple vegetation strata as they mature.
Improved storm water conveyance systems along and across the trail to ensure they can accommodate a 25-year storm event.
Have questions about upcoming design and construction activities? Watch these videos or read our general FAQs to learn more about planting in the trail corridor, sight triangles, trail staking and more.
Have questions about property rights in the East Lake Sammamish Rail Corridor? Read King County's general statement regarding property rights.
To view approved plan sets for the Shoreline Substantial Development Permit - Visit the City of Sammamish page.
---
Want updated construction information?
Visit the Project Information by Topic section to view the latest in design, outreach, technical reports and more. We'll keep all our ELST neighbors and stakeholders up to date as construction progresses.
New to the trail?
Visit the main trail page to read more about the trail's history, why the trail is being constructed, the amenities and connections it will bring to the surrounding neighborhoods and importance for the region. You can also watch a video describing the projects scope and timeline.
Be a part of the trails community!
The East Lake Sammamish Trail, much like all of our Regional Trails System trails, is a work in progress requiring constant management and upkeep. We always welcome constructive suggestion about trail maintenance, or safety from our users. Be sure to let us know if you see something on the trail that you think we can improve.
Sign up for ELST trail updates to get the news delivered to you!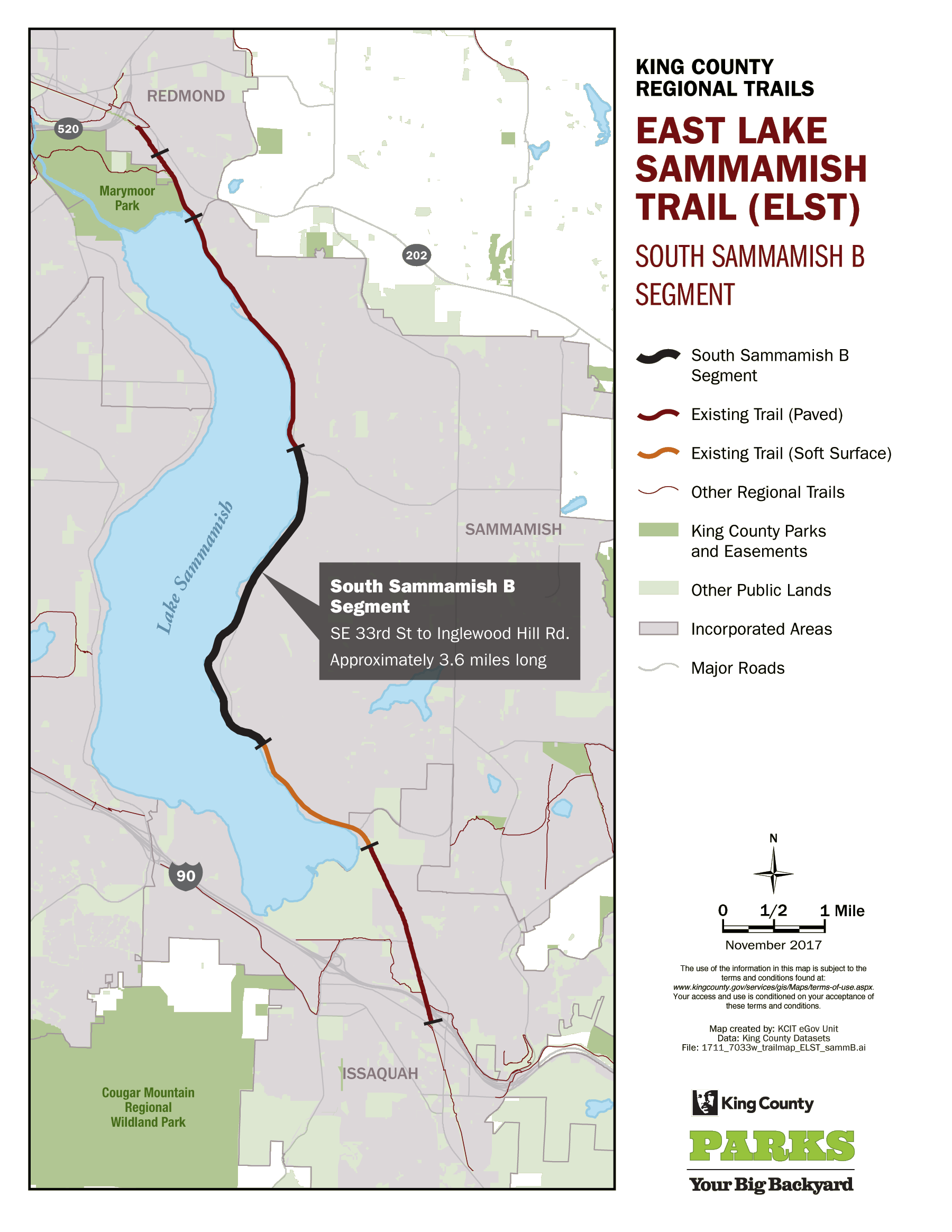 Questions? Comments?
Hotline: 1-888-668-4886
Email: ELST@kingcounty.gov