King County Councilmember Girmay Zahilay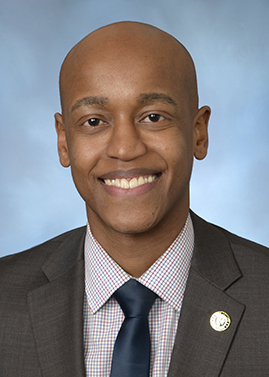 Friends and Neighbors,

I hope you and your loved ones are staying safe and healthy! This is your friendly neighborhood King County Councilmember, Girmay Zahilay. I wanted to check in, let you know what my office has been working on, and invite your input.

By way of introduction, I am your King County Councilmember, not to be confused with your City of Seattle Councilmember. For those of you who are not familiar with King County government, and are not sure how it differs from City government, I made a short King County 101 video explaining the difference between county and city government here.

I represent King County's District 2, which includes the University District, Laurelhurst, Ravenna, Eastlake, Capitol Hill, the Central District, South Seattle, Allentown, and Skyway. You can find a map of the district here.

My team and I send regular email updates to people who live in our district. If you know anyone who would like to receive these updates, please be sure to send them over to our County Council website to sign up for our e-newsletter!

What We've Been Working on This Past Year

My office has been working tirelessly this past year to address some of our region's most pressing challenges. We secured major investments in housing, infrastructure, and community centers. We addressed several public safety concerns, protected people from the pandemic, and designed solutions to address gun violence and homelessness. I write this to provide you a progress report on what we've been working on, not to suggest that these huge and complex problems have been solved.

As we move into the biennial budget planning this year, I will continue to prioritize public safety, ending homelessness, and recovering from the pandemic. We will keep working hard for you and we invite you to partner with us on building the King County we all want to see.
Here are some highlights on things we've been working on over the past year:

1. Supported and co-sponsored the Health through Housing initiative, which directs the County to buy existing hotels and motels to bring indoors 1,600 chronically unhoused people and provide them housing and supportive services

2. Protected thousands of tenants by passing a suite of historic Tenant Protections and Just Cause Eviction legislation to increase housing stability and reduce homelessness during the pandemic

3. Provided housing to dozens of unhoused Skyway residents by helping to establish the first Tiny House Village outside Seattle

4. Sponsored and passed the Surplus Land for Community ordinance to ensure King County makes available unused buildings and land for housing and other community facilities

5. Led the funding and creation of a $2 million community-based gun violence prevention program

6. Championed Ranked Choice Voting and other voting reform efforts

7. Trained hundreds of new leaders by launching Build the Bench, an initiative that prepares the next generation of progressive elected leaders

8. Launched the Youth Achievement Center campaign to build a housing and jobs center for unhoused youth in South Seattle, which led to a $500,000 donation from the Seahawks

9. Worked with the Council to allocate billions of federal relief dollars to protect residents from COVID, provide millions in rental assistance, and expand transit and infrastructure projects around the region

10. Supported small businesses by establishing a $5 million economic development program in unincorporated King County

11. Initiated negotiations to buy a building for a Skyway Community Center using $10 million we secured in last year's budget

12. Delivered a report on mental health crisis response systems to lay the groundwork for alternative emergency responders, after leading the charge on Charter Amendment 6

13. Advocated for the creation of a $10 million Participatory Budget to have community decide how funds are spent in unincorporated King County

14. Donated 8 minivans to organizations serving people who are elderly, disabled, or low-income

15. Established the Joint Aircraft Emissions Task Force to advance greenhouse gas reduction strategies and tactics, for which my team was honored with a Climate Justice Award from the Beacon Hill Council

16. Organized decision-makers and resources to promote public safety in key neighborhoods like Mt. Baker, Rainier Beach, and Little Saigon

17. Expanded public transit options for residents of Skyway and other South King County neighborhoods by helping to secure $6 million for Via on-demand van service

18. Promoted digital equity by funding internet services for marginalized communities and initiating a committee report to map King County's journey toward public broadband

19. Sponsored and passed a motion committing the County to equity in contracting and calling on the Governor to repeal laws that prevent equity

20. Worked with US Bank and community to get US Bank to donate its building to Skyway for a Skyway Resource Center, which is currently providing a centrally located space for social and human services for the Skyway community

21. Organized decision-makers to support refugee resettlement efforts from Afghanistan, Ethiopia, Ukraine, and other countries experiencing crisis

22. Co-created an Equitable Development Initiative to ensure King County supports development while preventing displacement of communities

23. Began drafting Extreme Weather Adaptation legislation to ensure King County creates a network of indoor options for people to escape extreme heat, cold, and wildfire smoke

24. Began pursuing strategies to dramatically increase our region's behavioral healthcare capacity, by expanding mobile response and indoor recovery centers.

25. Co-sponsored legislation to move King County elections to even years from odd years to dramatically increase voter turnout and engagement

Please always feel free to reach out to me and my team with any questions or comments at girmay.zahilay@kingcounty.gov. And as always, for more frequent and daily updates, you can check out our Facebook, Instagram, or Twitter pages. For the latest news, resources, and opportunities to engage with your King County government, follow me on the social media channels of your choice:

Facebook: facebook.com/Councilmember.Girmay
Twitter: @CMGirmayZahilay

Your King County District 2 Team,
Girmay, Rhonda, Chandler, Graciela, Rosa, & Linda