King County Councilmember Girmay Zahilay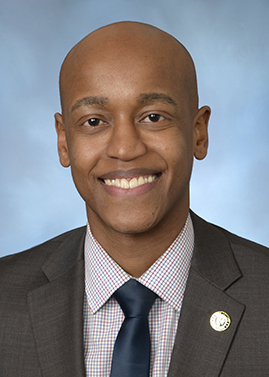 Friends and Neighbors,
I hope you and your loved ones are staying safe and healthy! For those of you whom I haven't met, my name is Girmay Zahilay and I just completed my first year as your King County Councilmember.
2020 and 2021 have been tough years to say the least. My office has been working tirelessly to protect our community from the pandemic, the recession, and racial injustice. Together, we have thus far achieved huge victories for our district and for our entire region in a short period of time. As you'll see in the checklist below, my office has secured major investments in housing, infrastructure, and community centers. We helped make our criminal legal systems more fair and just. And we've responded quickly to the pandemic to keep each other safe.
Our work is far from over. The need continues to grow around King County and our whole country. We will keep working hard for you and will look out for your feedback and collaboration. Please reach out with any comments, concerns, and questions.
Your King County District 2 Team,
Girmay, Rhonda, Chandler, Aaron, & Graciela
VICTORIES FROM THE OFFICE OF COUNCILMEMBER GIRMAY ZAHILAY IN 2020
✅ Invested tens of millions of dollars in Skyway for a community center, affordable housing, and expanding public transit options; and advanced the Skyway subarea plan to promote services in this neighborhood while protecting residents from gentrification.
✅ Transferred public land to community organizations to build a "Youth Achievement Center", which is a proposed housing and resource center for underserved youth in South Seattle.
✅ Spearheaded a new vision for public safety by proposing and passing Charter Amendment 6, which will allow King County to invest in public health and community-based alternatives to traditional policing.
✅ Launched Washington State's first small-scale Guaranteed Basic Income pilot program with community-based organizations.
✅ Provided COVID-19 economic and health relief by passing rental assistance, food vouchers, mobile testing, and mask distribution to tens of thousands in King County.
✅ Protected renters by passing supportive legislation for renters who can't afford to pay rent due to financial impacts of the pandemic.
✅ Promoted digital equity by funding internet services for low-income communities.
✅ Passed the Mi'Chance Dunlap-Gittens Youth Rights Ordinance, a law that gives young people under 18 the right to a public defender when being asked to waive their Miranda Rights by police.
✅ Increased access to government and important civic information by using social media in innovative ways and organizing various educational workshops on the budget and local policies.
✅ Supported small businesses through small business grants.
PLEASE STAY IN TOUCH
Click here to subscribe to my monthly eNewsletter.
Click on the following to connect with me on Facebook,
Instagram, or Twitter. On these platofrms, you will find
up to date information on my work and resources that
you may find helpful.
My email address is girmay.zahilay@kingcounty.gov.