King County Councilmember Dave Upthegrove
Thank you for visiting my webpage.

Born and raised in this community, I am proud to represent all or parts of Burien, Des Moines, Kent, Normandy Park, Renton, SeaTac and Tukwila. As your elected representative on the King County Council, I am at your service.

Please feel free to contact me with any comments or questions – it's always great to hear from you.



---
Statement on Report on Solitary Confinement of Youth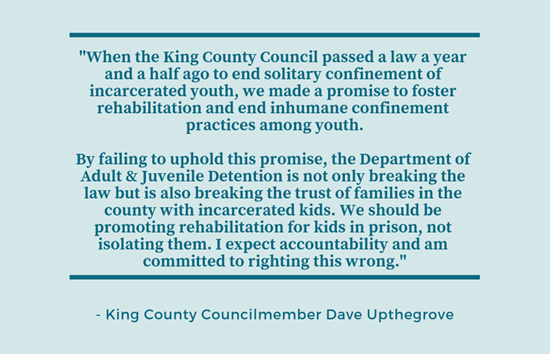 ---
Holiday Events in South King County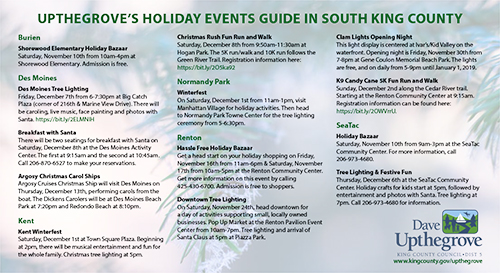 Click on the image to see a larger version.
---
Electric Buses Coming to South King County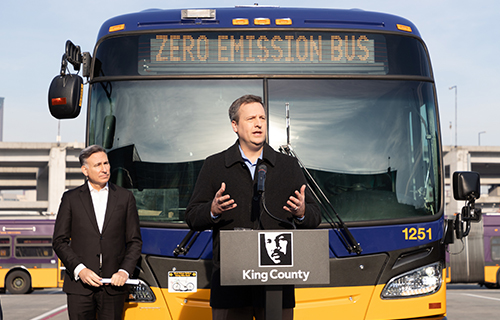 It's an exciting change to see King County Metro's new zero-emission, battery-powered buses operated out of South King County. The County's commitment to clean energy will ensure we all live healthy lives, without compromising our high quality transit system. I joined King County Metro and County officials to announce the new long-range battery-powered buses. Read more
---
2019-2020 County Budget
In November, the King County Council unanimously passed the 2019-2020 budget. Together with my colleagues we created a budget that is lean, smart, and consistent with our values. We made massive investments in affordable housing for working families, strengthened public safety in our communities, and expanded transit options and access through smart financial management. Watch the video
---
Mary's Place Visit
This summer, I toured the Mary's Place Family Center in Burien. Mary's Place is an extraordinary organization, which has been providing emergency shelter to women and families for nearly 20 years. I was very impressed by the partnerships they've built with neighbors, community organizations and our schools. They celebrated their grand opening last week. You can learn more about the work they do here. Read more