What is sustainable landscaping?
Sustainable landscaping is low impact, low maintenance, low resource use landscaping that fits each particular site and climate - virtually taking care of itself. This is the gardener's definition of "sustainable."
Our growing northwest population will continue to impact the quality and quantity of surface water in local streams and lakes as well as the quantity of groundwater available. Pollutants such as oil, metals, pesticides and herbicides are washed off developed surfaces and enter our waterways. Impervious surfaces, like roads and buildings, prevent water from being filtered by the soil and cause a greater volume of runoff than natural conditions, causing flooding and erosion.
Our communities have a great impact on our environment, including the landscaping that enhances our built structures. Incorporating landscaping into a building design and planning a garden appropriate to our climate can help keep pollutants out of our waterways, the lifeblood of salmon and other wildlife.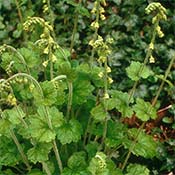 Not all landscape companies are the same. When you hire a landscape professional who minimizes the use of toxic chemicals and works with natural processes, you can protect your family's health, save money and help protect the environment. Download the How to Choose a Landscape CompanyDownload PDF 462 K brochure to learn more.
Demonstration gardens: three sustainably landscaped models
King County is committed to promoting effective and affordable sustainable design for builders and developers, including sustainable landscaping and low impact development practices. The King County Department of Development and Environmental Services (DDES) and Department of Natural Resources and Parks (DNRP) partnered to install three demonstration gardens surrounding the DDES office building at 900 Oakesdale Ave. S.W. in Renton, Washington.
These include a drought tolerant "xeriscaped" garden, shade garden and rain garden. By improving the soil and using plants suitable for unique conditions, all three gardens on this site use sustainable methods to respond to three typical Northwest landscapes: drought, shade and standing water. The gardens are low maintenance, feature native plants, promote healthy soil, minimize water use, and do not need excessive fertilizer or pesticides.