Noxious weeds in King County, Washington
NOTE: In accordance with Governor Inslee's Stay Home, Stay Healthy order, King County Noxious Weed Program staff are currently working from home except in very limited circumstances to carry out essential work as described in the Governor's order. Because of this, we may be delayed in responding to noxious weed reports or following up on existing infestations. Please be assured that we will do our best to respond when we can do so safely. Noxious weed program staff are available to help through phone and email.
The best thing you can do right now about COVID-19 is to stay informed! Visit kingcounty.gov/covid to learn more about the virus and how to prevent its spread. Keep updated on the latest developments on the Public Health – Seattle & King County blog at publichealthinsider.com.
Noxious weeds are a danger to our environment and the economy. These introduced species cost our region millions of dollars in lost agricultural production, environmental degradation and added maintenance costs. Once invasive plants spread to natural areas, they harm native plants and wildlife and can be impossible to eradicate.
Identify and learn about weeds and invasive plants
Locate noxious weeds in King County
Report an infestation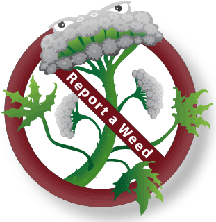 Report a noxious weed in King County, Washington with our web form or mobile app. We need your help to find early infestations while we still have a chance to stop them, and to learn more about where weeds are impacting people and the environment in King County.
Control noxious weeds
Weed control tips - how to control weeds, Best Management Practices, Integrated Pest Management
Knotweed control video - four short videos on knotweed control techniques, including stem-injector instructions
Participate
To contact us, please see the staff directory for the King County Noxious Weed Control Program, call 206-477-WEED (206-477-9333) or send us an e-mail. Program offices are located in the King Street Center Building at 201 S. Jackson St., Suite 600, Seattle, WA 98104.
Languages
Find information on noxious weed identification and control in multiple languages: