Frequently Asked Questions

This page contains the answers to various questions related to Content Manager. For additional assistance, please contact records.management@kingcounty.gov or 206-477-6889.
Filing Email
If you get the below error message when filing your emails, it means that the email was successfully filed but that the original could not be removed from Outlook. In those situations, click OK and then manually delete the email from Outlook.
To avoid this error message in the future:
1. Do not file from search results or sorted emails in Outlook, instead file directly from a folder.
2. Do not attempt to open anything in Dropzone while you are filing to it.
3. Change your Outlook settings (PDF) so that it displays/downloads all emails, instead of only those for the past 12 months.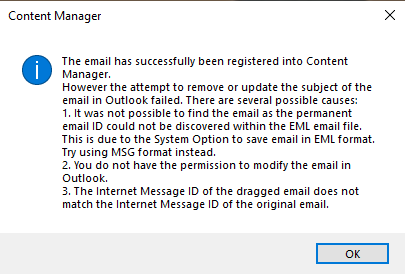 If you get the below error message, it means you are attempting to file non-email records (such as PDFs or Word Documents) from Outlook. If you happen to have non-email records stored in Outlook, those records should be moved to File Explorer and filed to Content Manager from there.

When emails are filed from Outlook to Content Manager the process is relatively slow. This is because the Content Manager application opens a window for each email that is filed. We are actively working with the vendor on possible solutions to this.
In the meantime, best practice is to file emails from Outlook in relatively small batches.
From within Content Manager, you can easily close all opened windows by clicking the View tab and Close All button.
Another possible workaround is to move emails from Outlook to a temporary folder on your Desktop or file drive and file from there, where the process is much quicker.
Filing Other Electronic Records
Searching
All records within Content Manager are 100% searchable. This includes all metadata (or information/data about records), the content of all records, and attachments to all email records. If a record is indexable in any way (like an OCRed PDF) then it is searchable in Content Manager!
If you are having trouble finding records within Content Manager, first try using one of the available Saved Searches. To locate Saved Searches, click on the Search tab, then the Records down arrow, then Saved Record Searches.
Please also explore this website to view various job aids and training material to help you locate records. We are continually updating this website with more information. Please check back.
All information about boxes was migrated from KC ERMS to Content Manager. The box numbers are the same in Content Manager, but now have a "B" in front of them. So that means if you are trying to locate box number 919616, you would locate that box by searching for number B919616 in Content Manager.
Training
Training on Content Manager is provided by interactive online training modules hosted through KC eLearning. Training is separated into different courses and modules, and users are able to complete them at their convenience. Upon completion, the user's PeopleSoft training record is automatically updated. End users also have access to supplemental training materials and job aids available on Records Management's website, as well as access to resources including the staff of Records Management and Records Management Leads within their agency.
Training is divided into four different courses, each taking approximately 30 minutes to complete:
Training for all users:
Digital Folders
Filing Electronic Records
Searching
Training for Records Management Leads only:
The Content Manager
training courses
are hosted on KC eLearning. If you are having trouble getting access to those trainings, view
KC eLearning's home page
for options and guidance about how to login. It is most effective if you are connected to the county's network. If you continue to have issues, visit the "Signing in" link at the bottom of the KC eLearning page for more tips. You should also try accessing the training through different web browsers.
Due to limited resources, the Records Management Program is not able to provide in-person Content Manager training at this time.
However the comprehensive online training provides an interactive environment where you can effectively learn to use the system. Staff of the Records Management Program are available for any questions or consultations.