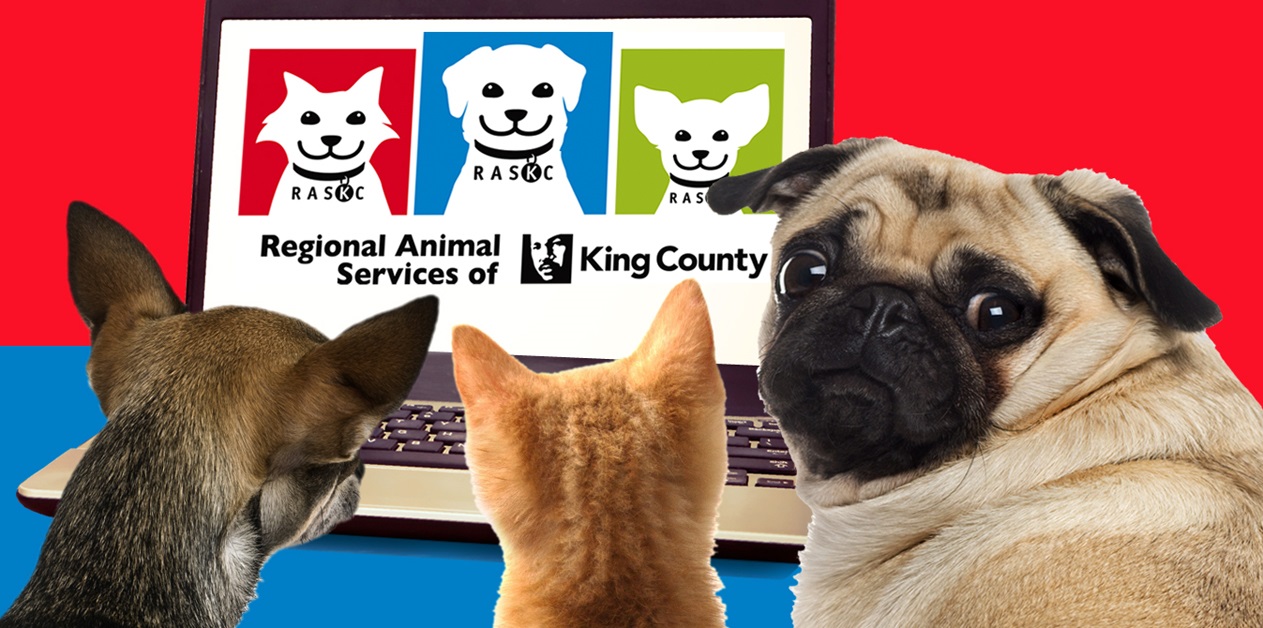 Did you know?
Licensing your pet helps to fund the life-saving work that RASKC performs. Each year, RASKC gives thousands of animals a second chance by providing quality care while at the Pet Adoption Center. But most important: A tag protects me! Should I stray, my finder can call the number on my tag and get your contact information 24 hours a day, 7 days a week and we can quickly be reunited.
Is RASKC my pet license service provider?
Confirm your jurisdiction by entering your address.
Licensing your pet just got easier. Whether you are purchasing a first time pet license, renewing an existing license, updating your pet's information or requesting a replacement tag -- residents that live in the RASKC coverage area can access the *online system anytime, anywhere.
Questions? Please e-mail us at petlicense@kingcounty.gov or call 206-296-2712
Prefer in person contact? No problem! We have over 70+ pet licensing locations throughout King County.
*A bank processing fee of 2.35% ($2 minimum) will be applied to all card transactions; a $1 fee will apply to all echeck transactions. No part of the convenience fee goes to King County.
General Information
Overview
King County pet licenses are required for all dogs and cats eight weeks of age or older living in the *Regional Animal Services coverage area. A pet license identifies and protects your dog or cat in case they get lost. Also, pet licenses offer lots of other great benefits as well, including our Free Ride Home program.
Even indoor-only cats or pets confined to fenced yards get loose and their licenses help assure you can be reunited with them. Licenses are inexpensive identification and are for your pet's protection and safety. License revenue also makes it possible to reunite lost pets with their families and for adoption services for homeless pets.
RASKC provides service to the unincorporated portion of King County and the following contracting cities: Beaux Arts, Bellevue, Black Diamond, Carnation, Clyde Hill, Covington, Duvall, Enumclaw, Issaquah, Kenmore, Kent, Lake Forest Park, Maple Valley, Mercer Island, Newcastle, North Bend, Redmond, Sammamish, SeaTac, Shoreline, Snoqualmie, Tukwila, Woodinville, Yarrow Point.
Key benefits to licensing your pet
Found pets are reunited quickly with their owner. The Pet License office number is on the license. If someone finds your pet, they will call the number, get your contact information, even after hours, and reunite you and your pet.
Your pet gets a free ride home the first time it is found. Our staff will attempt to deliver your pet home to you immediately, skipping a trip to the animal shelter.
Your pet gets a longer care period. When found, your licensed pet will be safely cared for at the Pet Adoption Center for a longer time.
You and your pet get the Vacation Pet Alert. When you leave home on vacation, call 206-296-2712 or email us at petlicense@kingcounty.gov to register where your pet will be while you are on vacation, who will be taking care of your pet and where to reach you. We will call the correct number if your pet gets loose during your vacation.
License fees support the return of hundreds of lost pets to their homes and help adopt thousands of homeless pets to new families every year. Pet license fees also fund investigation of animal neglect and cruelty, spay/neuter programs to reduce pet over-population, and community education services.
Annual pet licensing and late fees
NB: Fines for unlicensed pets $125 spayed/neutered; $250 unaltered.
Fee
Type
$15
Juvenile

Under six months, six months expiration

$30
Altered (Spay / Neuter)

Proof Required

$60
Unaltered

Eligible for spay/neuter voucher

$15
Senior Discount (altered pets only)

Proof that owner is 65 or older. Proof pet is spayed or neutered.

$15
Disabled Person (altered pets only)
$5
Replacement

For lost, unexpired tag

Late Fees

Type

$15

Days Past Expiration: 45 - 90 days

$20

Days Past Expiration: 91 - 135 days

$30

Days Past Expiration: 136 - 364 days

$30 + prior year's license fee

Days Past Expiration: 365+ days
Looking where to license your pet in person? Regional Animal Services of King County (RASKC) covers the unincorporated areas of King County, as well as 24 contract cities. We have nearly seventy locations in thirty cities throughout King County where you can purchase / renew your pet license in person. Prefer to purchase your license online? Click here.
The following cities issue their own pet license. Please contact them directly for pet license information: Algona, Auburn, Bothell, Burien, Des Moines, Federal Way, Hunts Point, Kirkland, Medina, Milton, Normandy Park, Pacific, Renton, Seattle, Skykomish.
Download PDF Version of this table
City
Agency
Address
Phone
Beaux Arts
see
Bellevue
for locations
Bellevue
Aerowood Animal Hospital
2975 156th Ave SE Bellevue, WA 98007
425-746-6557
Bellevue City Hall
450 110th Ave NE Bellevue WA 98009
425-452-6800
Bellevue Mini City Hall
15600 NE Eighth St Ste. H-9 Bellevue, WA 98008
425-452-2800
QFC #808
10116 NE Eighth St Bellevue, WA 98004
425-455-0870
QFC #822
3550 Factoria Blvd Bellevue, WA 98006
425-643-7110
QFC #826
15600 NE Eighth St Bellevue, WA 98008
425-865-0282
QFC #859
2636 Bellevue Way NE Bellevue, WA 98004
425-822-4154
QFC #874
1510 145th Pl SE Bellevue, WA 98007
425-653-2162
Black Diamond
Black Diamond City Hall
24301 Roberts Dr Black Diamond, WA 98010
360-886-5700
Bothell
Worthington Licensing Agency
10035 NE 183rd St Bothell, WA 98011
425-481-1714
Carnation
Carnation City Hall
4621 Tolt Ave Carnation, WA 98014
425-333-4192
Clyde Hill
Clyde Hill City Hall
9605 NE 24th St Clyde Hill, WA 98004
425-453-7800
Covington
Covington City Hall
16720 SE 271st St Ste 100 Covington, WA 98042
253-638-1110
Petco (#1209)

27111 167th Pl SE, Covington, WA 98042




253-638-1064



Valley Vehicle Licensing
27331 172nd Ave SE Ste 116 Covington, WA 98042
253-630-7090
Duvall
Duvall City Hall
15535 Main St Duvall, WA 98019
425-788-1185
Enumclaw
Enumclaw City Hall
1339 Griffin Ave Enumclaw, WA 98022
360-825-3591
QFC #863
1009 Monroe St. Enumclaw, WA 98022
360-825-5155
Factoria
Petco #1279
3540 Factoria Blvd SE Bellevue, WA 98006
425-641-4472
Federal Way
Petco #258
31419 Pacific Highway South Federal Way, WA 98003
253-839-7423
Issaquah
Issaquah City Hall
130 E Sunset Way Issaquah, WA 98027
425-837-3000
Issaquah City Hall Northwest
1775 12th Ave NW Issaquah, WA 98027
425-837-3403
Issaquah Community Service Center
5415 220th Ave SE Issaquah, WA 98029
206-477-2169
Petco #250
975 NW Gilman Blvd Issaquah, WA 98027
425-392-9664
QFC #821
1540 NW Gilman Blvd Issaquah, WA 98027
425-392-4475
QFC #840
4570 Klahanie Dr SE Issaquah, WA 98029
425-392-2776
Kenmore
Kenmore City Hall
18120 68th Ave NE Kenmore, WA 98028
425-398-8900
Kent
Centennial Center
400 W Gowe St Kent, WA 98032
253-856-5200
RASKC
21615 64th Ave S Kent, WA 98032
206-296-7387
Kent Community Service Center
401 4th Ave N - Suite GD
(inside Maleng Regional Justice Center)
206-477-4880
Pet Central
13004 SE Kent Kangley Rd Kent, WA 98030
253-277-7020
Petco (#1248)
26209 104th Ave SE, Kent, WA 98030
(located in:

Canyon Ridge Plaza)




253-852-5100



Petco (#1292)

25444 Pacific Hwy S, Kent, WA 98032




206-212-7005



QFC #803
13304 SE 240th St Kent, WA 98031
253-630-3560
Reber Ranch
28606 132nd Ave SE Kent, WA 98042
253-630-3330
Kirkland
Eastside Auto License Agency
12006 NE 85th St Kirkland, WA 98033
425-828-4661
Eastside Pet Adoption Center / Petco
12040 NE 85th St. Kirkland, WA 98033

425-406-8081



QFC #838
14130 Juanita Dr NE Kirkland, WA 98034
425-821-4885
Petco #5207
10042 NE 137th Street Kirkland, WA 98034
425-820-0934
Lake Forest Park
Lake Forest Park City Hall
17425 Ballinger Way NE LFP, WA 98155
206-368-5440
Lynnwood
PAWS
15305 44th Ave W Lynnwood, WA 98046
425-412-4029
Maple Valley
Maple Valley City Hall
22017 SE Wax Rd Ste 200 Maple Valley, WA 98038
425-413-8800
QFC #837
22131 SE 237th St Maple Valley, WA 98038
425-432-9961
Mercer Island
Mercer Island City Hall
9611 SE 36th St Mercer Island , WA 98040
206-275-7783
QFC #806
8421 SE 68th St Mercer Island, WA 98040
206-232-0102
QFC #839
7823 SE 28th St Mercer Island, WA 98040
206-230-0745
Newcastle
Newcastle City Hall
12835 Newcastle Way Ste 200 Newcastle, WA 98056
425-649-4444
QFC #827
6940 Coal Creek Pkwy SE Newcastle, WA 98059
425-747-9599
North Bend
North Bend City Hall

211 Main Ave. North Bend, WA 98045



425-888-1211
QFC #829
460 E North Bend Way North Bend, WA 98045
425-888-1682
Redmond
City of Redmond
15670 NE 85th St Redmond, Wa 98052
425-556-2145
Marymoor Park
6046 W Lake Sammamish Pkwy NE Redmond, WA 98052
425-477-7275
Redmond Community Center at Marymoor Village
8867 161st Ave NE Redmond, WA 98052
425-556-2300
Petco #1218
7215 170th Ave NE Redmond, WA 98052
425-861-3907
QFC #820
15800 Redmond Way NE Redmond, WA 98052
425-885-2311
QFC #860
8867 161st Ave NE Redmond, WA 98052
425-869-8006
QFC #878
23475 NE Novelty Hill Rd Redmond, WA 98053
425-636-0420
Renton
Black River Community Service Center
919 SW Grady Way Renton, WA 98057
206-296-7810
Petco #1272
4110 NE 4th Street Renton, WA 98059
425-255-0083
QFC #871
4800 NE Fourth St Renton, WA 98059
425-226-7086
Sammamish
Sammamish City Hall
801 228th Ave SE Sammamish, WA 98075
425-898-0660
Petco #1265
474 228th Avenue NE Sammamish, WA 98074
425-868-8875
QFC #824
2902 228th Ave SE Sammamish, WA 98075
425-898-0660
Seatac
SeaTac City Hall
4800 S 188th St SeaTac, WA 98188
206-973-4800
Seattle
King County Administration Building
500 Fourth Ave Seattle, WA 98104 (Room 403)
206-296-2712
PAWS Cat City
5200 Roosevelt Way NE Ste B Seattle WA 98105
206-782-1700
QFC #858
1531 NE 145th St Seattle, WA 98155
206-363-5717
Shoreline
Shoreline City Hall
17500 Midvale Ave N Shoreline, WA 98133
206-801-2230
QFC #816
600 NW Richmond Beach Rd Shoreline, WA 98177
206-546-5129
Seattle Area Feline Rescue
14717 Aurora Ave N Shoreline, WA 98133
206-659-6220
Shoreline Community Service Center
18050 Meridian Ave N Shoreline, WA 98133
206-477-2723
Snoqualmie
Snoqualmie City Hall
38624 SE River St Snoqualmie, WA 98065
206-801-2230
Tukwila
Petco (#1236)


17200 Southcenter Pkwy.

Tukwila, WA 98188

Tukwila City Hall
6200 Southcenter Blvd Tukwila, Wa 98188
206-433-1800
Woodinville
Woodinville City Hall
17301 133rd Ave NE Woodinville, WA 98072
425-489-2700
Woodinville License Agency
17403 139th Ave, NE Woodinville, WA 98072
425-486-0677
Yarrow Point
Yarrow Point Town Hall
4030 95th Ave NE Yarrow Point , WA 98004
425-454-6994
Virtual pet licensing locations
Pet Information Line
206-296-7387 (PETS)